Top 10 Healthy Meal Ideas For Teenagers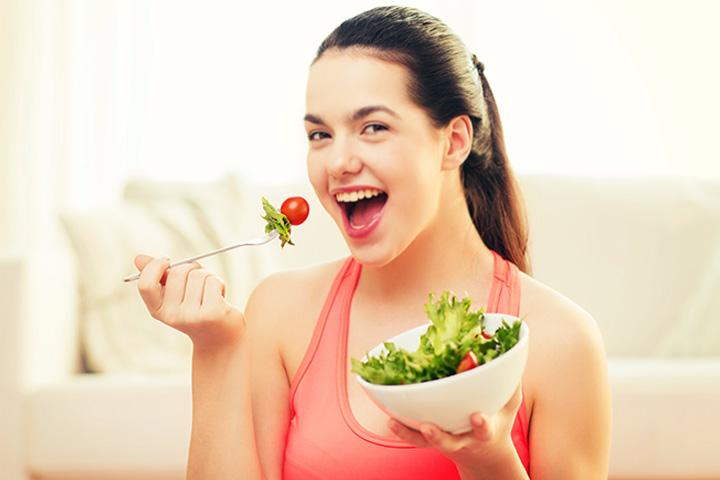 As a parent, keeping your teen off junk food and on healthy food is no mean feat. Most parents struggle to provide the right balance of nutrients to their growing teens, because of various factors. And if you are one of those parents who are locked in this struggle, you should consider reading our post below. Here, we list some healthy meals for teens that they will simply love to eat!
1. Pasta With Tomato Sauce:
Pasta served with spicy tomato sauce is one of the favorite meals amongst teenagers.
You can add nutritious veggies to the pasta and tomato sauce mix and elevate the nutritional intake of your teen.
2. Vegetable Omelet:
Omelets are a simple and versatile meal that you can prepare according to your teen's taste.
You can add plenty of vegetables and herbs to enhance the taste of the vegetable omelet.This is one of the tasty and yet nutritious meals for teenagers.
3. Quesadilla:
A quesadilla is a tortilla filled with cheese and topped with veggie-rich salsa.
You can also add pieces of chicken or beef to the quesadilla to increase the protein content.
4. Simple Salad:
Make a simple salad with plenty of green vegetables, low-fat cheese and proteins like hard-boiled eggs.
The no-cook meal is highly nutritious for your growing teen. Simple salad is one of the best healthy meals for a teenager.
5. Pizza:
Pizza is a flavorful and healthy meal that your teen would love to have on his menu.
A few veggies like peppers, capsicum and onions can serve as a healthy topping.
6. Frozen Yogurt With Cashews And Walnuts:
Plain low-fat yogurt serves as an excellent source of calcium and promotes healthy bone development in teens.
Low-fat or nonfat frozen yogurt tastes delicious and is a better alternative than ice cream.
If your teen loves the nutty flavor of cashew nuts or almonds, sprinkle these nuts on top of the frozen yogurt to enhance the taste.
The nuts contain a high percentage of iron, zinc, saturated fat, and magnesium that is beneficial for your teen.
7. Peanut Butter:
Peanut butter contains unsaturated fats, iron, and calories that help in growth processes of your teen.
You can sandwich peanut butter between layers of brown bread or graham crackers and serve them to your teens as snacks.
8. Grilled Salmon Salad With Spinach:
Researchers conclude that one weekly portion of fish helps your growing teen prevent heart attacks in the later stage of his life.
Salmon is a healthy fish that contains healthy omega-3 polyunsaturated fat and possesses disease-fighting capabilities.
Essential omega-3 fatty acids minimize the symptoms of depression and arthritis in teens.
Toss green veggies like spinach, broccoli or cabbage with grilled salmon and serve it to your teen during the lunchtime.
9. Steamed Broccoli and Quinoa:
Broccoli is a disease fighting food that contains vital compounds like beta-carotene. The element helps your teen fight against cancer and reduces the tumor growth.
Broccoli contains a high percentage of calcium, fiber, Vitamin C, and potassium that is highly beneficial for your growing teen.
Serve steamed broccoli with quinoa, which is a low-fat, high-fiber substitute for rice. Quinoa serves as an excellent source of iron, potassium, vitamin B, and especially protein.
10. Tacos:
Tacos are a simple homemade food that entices your teen's taste buds. It is an Italian dish that is typically spicy, with lots of refried beans, chicken, and beef pieces.
To add extra nutrients to your taco recipe, add green veggies to it. This is a simple, delicious and healthy meal for teenagers.
Do you make any delicious and homemade meals for your growing teen? Does your teen love the taste of those foods? Do share some of your healthy recipes with other mommies here!
Comment in the box below!