Sleepwalking In Children: Causes, Treatment And Prevention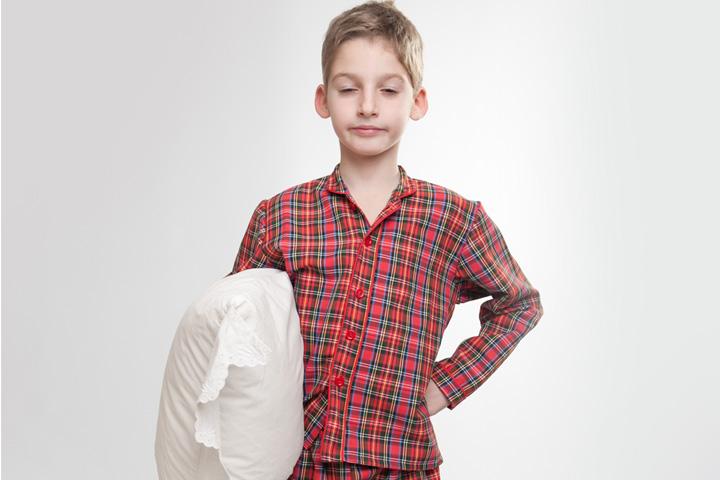 Charlie fell asleep listening to his favorite song. At around 3am, he helped himself to a tub of ice cream. He then left the ice cream on the table before walking back to bed.
Charlie remembered nothing of this the next morning because he was sleepwalking. Scary, isn't it?
Sleepwalking is a common disorder that affects kids, with at least 30% having sleepwalked at least once in their lives. Around 8.4 million Americans are sleepwalkers (1). When not addressed, sleepwalking in children can be hazardous. MomJunction brings you this detailed article on sleepwalking in kids, what causes it, and how you should handle it to keep the child safe.
What Is Sleepwalking?
Sleepwalking is a sleeping disorder in children and adults but is more prevalent in the former than the latter (2). Also called somnambulism, sleepwalking is high in children who have bed-wetting problems. Most kids outgrow this problem before teenage.
Sleepwalking is the act of walking and performing complex tasks. Activities can be as harmless as sitting up in the bed and staring blankly, to dangerous activities such as using electrical appliances, driving cars, and wandering outside.
Classic cases of sleepwalking usually occur during the first three non-REM (dreamless) stages of sleep. People who sleepwalk have no idea of what is happening and do not recollect their actions upon waking up.
If a person sleepwalks during the REM stage of the sleep, it is referred to as REM Sleep Behavior Disorder and not sleepwalking. In this case, the person is probably enacting a dream and most often remembers it.
Symptoms Of Sleepwalking
An episode of sleepwalking may last from a few minutes to an hour. Sleepwalkers usually have a blank expression, and their behavior is purposeful. Most sleepwalking episodes occur one to two hours after the child had gone to sleep.
Common symptoms of sleepwalking in children include:
Walking and performing tasks while in deep sleep – they could eat, get dressed, etc.
Talking or mumbling in sleep
Repetitive motions such as walking in circles, opening and closing doors, saying the same things again and again
Little or no memory of what they did during the event
Inappropriate behavior such as urinating wherever they are
Screaming is a common symptom when sleepwalking occurs along with night terrors
Does not respond when spoken to – no acknowledgment of the presence of other people in the room
Occasionally, children also wander outside their safe zones when they sleepwalk, which makes sleepwalking dangerous.
Causes Of Sleepwalking In Children
Sleepwalking can occur due to one of the following reasons.
Lack of sleep is the most common cause of sleepwalking in children
Irregular sleeping habits – changing bedtimes, disturbed sleep
Stress or anxiety can also cause sleepwalking and other nocturnal disorders (3)
Medical conditions that result in disturbed sleep; for example, children with sleep apnea, epilepsy, and restless leg syndrome (RLS) have a higher chance of sleepwalking (4)
A full bladder may trigger an episode of sleepwalking and maybe urinating in inappropriate places (5)
Night terrors may result in sleepwalking
Sleepwalking can also be hereditary
While the above-mentioned points are common causes of chronic sleepwalking, sedatives, medications, head injuries, and migraines can also result in episodes of sleepwalking sometimes.
Diagnosis Of Sleepwalking
Basic diagnosis of sleepwalking is based on the parents' account of the child's sleepwalking episodes (6). The doctor will also gather information about the child's sleeping patterns, nocturnal habits, and medical history. A physiological and psychological examination may be conducted to determine the cause of sleepwalking.
If the doctor suspects that a medical condition is the cause of sleepwalking in your child, she might recommend further tests to diagnose the condition. If you are consulting a sleep specialist, he may ask you to maintain a sleep diary for at least two weeks, to observe and note the sleepwalking patterns.
Treatment For Sleepwalking
Sleepwalking in adults is usually treated using hypnosis, which has a decent success rate (7). Pharmacological treatments, which include the use of antidepressants and sedative-hypnotic medicines, have also been helpful for sleepwalking adults. However, there isn't a particular method to treat sleepwalking in kids.
As children tend to outgrow this habit, sleep specialists tend to focus on improving the child's sleep hygiene and habits. This helps in reducing the number of sleepwalking events, and eventually eliminating it.
If sleepwalking is due to an underlying medical or psychological condition, treatment becomes necessary.
How To Deal With A Sleepwalking Child?
Sandra was watching TV when her five-year-old daughter Sasha walked into the room. Sandra asked Sasha why she was up and if she needed anything. Instead of responding, Sasha walked past her mom into her room and kept walking in circles. Worried, Sandra shook her daughter to wake her up and ended up with a confused, scared little girl who started crying.
Sandra had to spend over an hour trying to calm the child and put her back in bed.
If you notice that your child is sleepwalking, trying to wake them up from it is the last thing you should do!
While waking up a sleepwalking child is not harmful, it make the child confused, scared, or even cranky. So what do you do when you find the child sleepwalking?
Gently guide the child back to bed and stay until they are safely asleep.
Use reassuring or comforting words such as, "You're safe. You are going back to bed and sleeping comfortably" in a soft voice.
Do not scream or speak in a loud voice, as that might startle and frighten the child.
Do not try to restrain the child physically by holding them as that might scare them and turn them violent in self-defense (especially if they are also having night terrors).
You may not always be up and about to protect your child when he or she sleepwalks. So here are a few ways you can keep a sleepwalker safe.
Remove any sharp or breakable objects from the child's room.
Remove anything that results in tripping and falling.
Put a child door in the room or dangerous places such as the staircase
Lock the windows in the child's room. Also, lock the door if you are sleeping in the same room.
Most importantly, do not put the child in a bunk bed as more often than not, a sleepwalker does not see what is in front of him or her and can fall off a bunk bed.
How To Prevent Sleepwalking In Kids
Another way to keep children safe from the possible dangers of sleepwalking is to develop a good sleep hygiene. Here are a few tips for that.
Set a bedtime and ensure that the child is in bed by then, whether it is a weekday, weekends, or vacation time.
Create a relaxing nighttime or bedtime routine that involves a warm bath, reading, or listening to relaxing music.
Create a soothing and comfortable environment for the child to sleep in. Keep the room dark, with a nightlight if needed, and remove any noisy clocks from the room.
Ensure that the temperature in the child's room is just right, not too hot or too cold.
Limit the amount of water or other liquids the child consumes before bedtime. Also, ensure that the child empties his bladder before going to bed.
Do not give the child any sugary or caffeinated foods and drinks.
Some sleep specialists may suggest trying anticipatory awakening, which is waking up the child at least 15-20 minutes before the time the event usually occurs every day. Set up an alarm to wake the child.
You can also try meditation, mental imagery, and other stress relieving activities to prevent sleepwalking episodes. If anything in particular triggers the sleepwalking episodes, try to prevent or avoid them. Talk to your child's sleep specialist if you have any more concerns or doubts.
Home Care Tips For Sleepwalking
A few lifestyle changes can help you prevent or minimize the chances of sleepwalking in children.
Good nutrition helps in maintaining a healthy weight and body, which contributes to healthy sleeping patterns. If the child is obese or overweight, he or she may have difficulty sleeping.
A tired person often "sleeps like a log". Regular exercise is a good way to work the body and get a good night's sleep, and maybe even prevent sleepwalking. Walking, jogging, cycling, or working out for a few minutes or an hour every day can help.
Allow the children to get adequate sleep. This can help minimize the sleepwalking episodes. Make a note of their behavior when they don't sleep well. Are they stressed? Are they sleepy or moody?
Avoid auditory or visual stimulants that can trigger night terrors and with it, sleepwalking.
Cut down on the afternoon or evening naps.
Use of essential oils such as lavender, chamomile, myrrh, and sage in the bath can also help the child sleep better.
Learn more about the foods that help your child sleep better, and maybe prevent sleepwalking, here.
It's Not Funny!
Watching a child walk in sleep and do silly things or blabbering something innocently while asleep does have a comic touch to it. But it is not funny! Ask the parent of a sleepwalking child, and they'll tell you how difficult it is for them. Sleepwalking in itself is not dangerous, but it can send a child onto danger's path.
Sleepwalking in children may not be a serious illness, but it must be taken seriously. If you see the signs, take the child to a doctor without delay.
Have any helpful tips on dealing with somnambulism? Share them in the comments section.