How To Make Your Wife Happy: Easy Ways You Should Try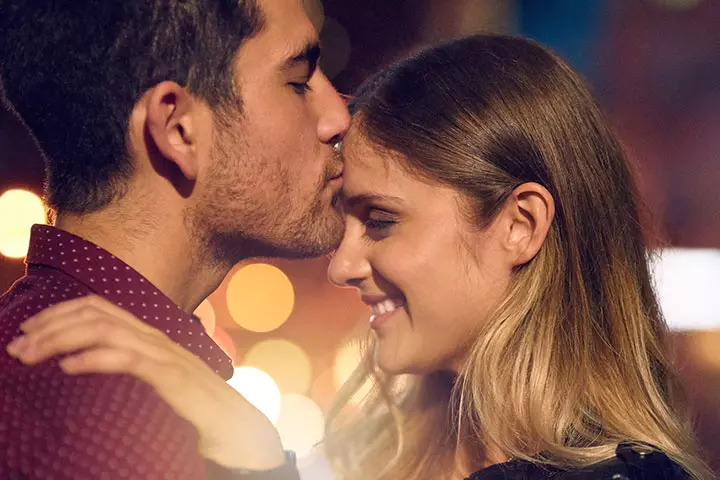 A happy wife means a happy family. And keeping her happy needs just a bit of effort – spend time with her, talk to her, ask about her day, take care of her when she is unwell, and respect her feelings. Of course, do not forget to gift her occasionally!
As the adage goes, as you sow so shall you reap, and as you treat your wife so shall your wife treat you. You take care of her, and she will take care of you. What does this ultimately lead to? A happy family and a healthy home environment for your children to grow.
MomJunction tells you how to make your wife happy under various circumstances in life.
How To Make Your Wife Happy
Before going into specific situations, let's see how you can keep your wife happy in general. Here are some tips to guide you on that:
Take her opinion: Whether it is a big decision or a small one, take her opinion. It will not only make her happy but will also help strengthen your marriage.
Make her your priority: While you are with your wife, keep your phone aside, talk to her, listen actively, and spend quality time with her.
Hug her when you are back home: After a long and tiring day at work, hug her lovingly or kiss her on the forehead. Show that you missed her during the day.
Offer help: Sharing responsibilities is a given in a relationship. But offering your unconditional help is a gesture that says a lot about you. Your wife will appreciate and admire you for that.
Appreciate her: Most often husbands overlook the effort their wives put into the stuff they do. Every little thing that she does requires effort and time. So, recognize that effort, and she will feel happy about it.
Forgive: Mistakes do happen by all of us. If she has forgotten to pay a bill or remind you about your mom's checkup, it is alright, forgive her.
Know the tiny details about her likes and dislikes: This is no rocket science! You don't have to try hard to know what your wife likes and dislikes. Just pay close attention to her and you will know her inside out. Get her what she likes and avoid things she doesn't like.
Maintain your looks: Don't just hang out in your shorts or knickers all the time. Take time to dress up and maintain your looks. Not maintaining personal hygiene and hanging out in sweaty clothes can be a major turn off.
Give her space: You want to spend all your time with your wife for good reasons, but it's only fair to give her the space she needs. She needs some time for herself; probably you can babysit the kids on the weekend and ask her to take off somewhere or spend time with her friends. You can let her pursue her hobbies and interests.
Physical display of affection: Some women love PDAs, so if your wife is one of them, go ahead and hold her hand or put your hand on her waist when in public. She'll feel happy and proud that she is yours.
Write to her: Penning your thoughts can make a world of difference. Write about the things you love about her, how much you love her, and how lucky you are for being married to her. I am sure she will preserve your letters for a lifetime.
Be courteous: Be a gentleman and open the door for her or pull the chair for her to sit in a restaurant. Show us one woman who wouldn't fall for that!
Plan date nights: I know this seems next to impossible thanks to never-ending responsibilities. But if you have the will there is always a way. So, plan a date night once in a month and make it special.
Encourage her: Being her partner, you need to encourage her and motivate her to pursue her ambitions, interests, and dreams.
Hit the gym together: If you want to strengthen your relationship along with your body, work out together, if not every day at least once in a week. Enrol for marathons or dance classes together or just go for morning or late night walks.
Be faithful: Let her know that you are committed to her and show it in your actions. Don't make her feel insecure or unloved in your relationship.
Understand the difficulties of managing home and work: Talk to your wife about her work, ask her if she needs help at home so that she can focus on her career. Let her vent out her frustrations about work. Provide her the cushion she can fall back on anytime. If your wife is a homemaker, be empathetic and support her in all ways you can.
These things might seem small, but they act as a catalyst in strengthening your relationship and making your wife happy. Add some extra physical intimacy, and your relationship will become as strong as it should be.
Physical intimacy is a biological need which has to be satisfied. You need to keep the romance alive and exciting if you want to satisfy your wife. Here's how you can keep your wife happy in bed:
Have sex  as frequently as possible: Instead of making it once-in-a-blue-moon affair, take time to have some intimate moments with your wife as regularly as possible. Make love at different times — according to research, early morning is the best time to have sex (1).
Buy lingerie and perfumes: Express your intentions by gifting her some sexy lingerie or a pleasing perfume. That can turn her on.
Don't jump straight into the bed when you want to have sex. Have some sex talk, look into your wife's eyes and tell her how sexy she is. Talking about how desirable she is works, like a magic potion before the act.
Increase your foreplay time: There is more pleasure in foreplay than in having sex so invest your time in foreplay.
Bring in variety: Variety can increase pleasure – try different positions and in different places. Pay more attention to her while making out.
Don't be mechanical: Don't go back to sleep snoring after you have had sex. Cuddle up and hug your wife and tell her how much you love her.
Talk to her: Ask her what she wants you to do to increase her pleasure. Of course, don't make it sound like an over-the-table conversation. Ask her playfully so that the mood is enhanced.
The key to making her happy is to give her what she likes. Take our word — it is not easy to handle an angry wife.
How To Make Your Wife Happy When Angry
Your married life is not all picture-perfect. Sometimes you would be extremely upset with your wife, and some other times your wife would be angry at you.
It's a common thing but don't let that become a regular affair. Learn how to deal with your angry wife:
Surprise her: Give your wife something she likes. Even something as simple as flowers can cool her down.
Don't take it personally: When people are in a bad mood, they tell things that they may not mean. And for women, sometimes it is due to hormones. So, let her unleash her frustration, just listen to her without reacting.
Take her on a holiday: This is a sure shot way to make your wife happy. Plan a quick holiday and take her to a place she's longing to go. She will not only be happy but also fall in love with you all over again.
Be an active listener: Pay attention to what she is saying and comfort her when she is in trouble. Put down your phone for a while and listen to her.
Take up the household chores: Her anger might be stemming out of too much work at home. Share the responsibility for daily chores. Offer to do the laundry, drop the kids to school or prepare dinner. This will make her relax, and her anger disappears.
Write a love note: Sometimes it's hard to talk face-to-face after you have had a fight, but you can always write a note, text, or email telling how much you love her and just let her know your true feelings. They are sure to reach her.
Accept and agree: Don't fake your feelings. Don't just show that you agree with her, but mean it. Make an attempt to understand the source of her anger, and address it genuinely.
Do something that interests her: Whether it's a movie that she likes or a cuisine she loves, or a hobby she wants to take up, plan things around her interests. She will be touched by it.
Don't escape: Don't ever escape from a situation. This can make your wife angrier and leave her frustrated. Face it and address the problem.
Surprises, holidays, and gifts can put pressure on your pocket, but there are priceless things to make your wife happy – your sincere love and thoughtful feelings. Your love and empathy are all she needs, especially when she is pregnant.
How To Make Your Pregnant Wife Happy
Raging hormones, crazy cravings, irrational temper, and perpetual hunger pangs – that's how pregnancy is, gentlemen. So, you don't want to mess with a pregnant woman, do you? Whether she is in her first trimester or last, the following things can make the gestation period less stressful and more memorable:
Go for the checkups together: No matter how tied up you are at work, take off from work, and accompany your wife to the hospital for her monthly checkup. It's reassuring for a wife when the husband is by her side at such an important time. She will be proud of you and it will also help you be informed and prepared for the times ahead.
Be patient: Your wife will lose her temper for no reason. She is not to be blamed because it is her surging hormones at work. Keep your cool and be patient. The sooner you learn, the better prepared you will be to deal with the times to come.
Do the daily chores: Fatigue, nausea, and vomiting can make it harder for her to do her daily chores, especially those that involve standing for long hours such as cooking and doing dishes. So, help her with daily chores.
Pamper her: Indulge her in what she likes, get her chocolates, take her to movies, buy maternity wear, paint her bump, and tell her how beautiful she looks with the bump. Treat her like a baby!
Talk to the baby: Bond with the bump – talk to the baby, sing lullabies, and feel the movements. She will be touched by your participation.
Clear the trash: Don't wait for your turn to take the trash out. Just do it every day while she gets to sleep five minutes extra.
Make her dinner: Nausea can make her intolerant to aromas and strong smells. So, give her a break and prepare dinner for her. She will feel happy and relaxed, and is sure to love your gesture.
Give her a massage: Pregnancy is one time a woman loves getting a massage every day. Rub her back, press her feet, and comfort her in all ways you can.
Provide emotional support: More than anything, your pregnant wife needs your emotional support. Let her know that you are there for her, lend her your shoulder whenever she needs, listen to her if she wants to vent out, and love her unconditionally.
Be alert: As your wife's pregnancy progresses, you need to be extra careful of her movements. Hold her hand just in case she might trip or fall.
Show interest in the baby's development: She will like it when you discuss the baby's growth with her or with the doctor.
Be romantic: Plan for a romantic maternity photo shoot. Go on date nights and cuddle her whenever you can.
Read books: Not just any book, but read books on pregnancy. The more you are informed, the better you are prepared for the future.
Shop for the baby: Shop for all those things you would require to do up the nursery. Buy tiny onesies, socks, and mittens for the baby.
Get her a pregnancy pillow: With the pressure on her pelvis and aches in her back, she would need umpteen pillows to support her. So, buy her a full-length pregnancy pillow that can help relax her back and be comfortable.
Your wife can perhaps understand if you are too busy to care for her, but when you go that extra mile to take care of her at important times such as pregnancy, that's when you carve a special place for yourself in her heart. Little things such as these work as great mood enhancers.
When your wife is happy, the happiness trickles down to everything else in your life. Hence, shower your wife with love and tell her that she is the best choice that you have ever made. Remember, do not fake about your affection. You can make her happy only if you are genuine and honest in your relationship.