Baby skincare beyond just mildness: What does your little one's skin really require?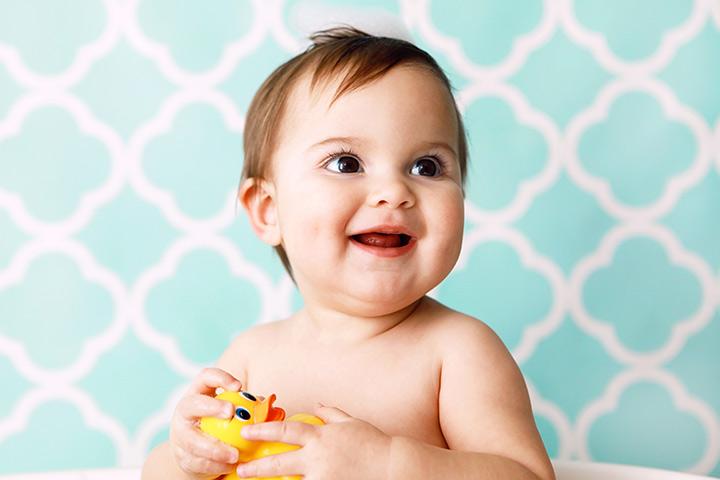 This tiny munchkin who arrives into your world sure brings a lot of joy in life. Besides, he also tests your decision-making ability. Wondering what I am talking about? Deciding on the right skin care product can be one of the toughest decisions you make as a new mother.
The first time around with my child, I panicked about every single thing for my baby, right from choosing a soap to a crib. And when it came to caring for my baby's sensitive skin, I was in a perpetual dilemma.
While my mom convinced me to use the good old gram flour with milk cream to smoothen his skin, I wasn't sure, as I was worried that he might develop rashes on his skin.
Being the tech savvy mom that I am, I did my research and Googled for all baby care products I could find, and then I discovered the right skin care for my baby, that is BabyDove. Along with Baby Dove, I also discovered a lot of information I was not aware about.
Mildness is not all:
When I started off my search for baby skin care, all I thought was about the mildness of the product for my baby's sensitiveskin. And then, I found several baby products that promised mildness. But only after I researched further, did I find out the truth.
The truth that it is just not enough for a soap to be mild.
The baby's skin is soft and delicate and it develops continually. It's 30% thinner than an adult's skin, which means it's more prone to dryness and damage. It loses moisture content 5 times faster than our skin. That is why a baby's skin needs more than gentle care. The bath products must provide more than mere mild cleansing.
Besides being mild, the products have to ensure the (development of the baby's skin) by nourishing and moisturising.—we never talk about developing baby skin
The so-called mild soaps left my baby's skin dry. So my next task was to find something that moisturised my baby's skin.
After exhaustive research, I found the Baby Dove range of products perfect for my child. Baby Dove's Rich Moisture range has been developed for babies with normal to dry skin and goes beyond mildness to actively replenish lost moisture and nutrients into baby's skin. All products are hypoallergenic, pH neutral and gentle to the eyes with a mild and caring fragrance specifically developed for delicate baby skin. Having Baby Dove in my life has helped me sleep peacefully knowing that I am doing the best there is in taking care of my baby and helping him lead a healthy life.
So here are four tips I would like to share with you for maintaining your baby's delicate skin:
Choose the right products: There are plenty of baby skincare products out there, but finding the right one for your child can be tricky. Things you need to look out for are mildness and essential moisture and nutrients. The one that suited my baby perfectly is the Baby Dove range – it offers special care for baby's delicate and sensitive skin like no other product.
Baby Dove Rich Moisture Baby Bar has a hypoallergenic and pH neutral formula that's dermatologist and pediatrician tested. The Rich Moisture Baby Bar restores your baby's skin with essential nutrients lost during bathing, in just a matter of few seconds. The Rich Moisture Baby Bar comprises one fourth moisturising cream, leaving your baby's skin soft, nourished, and delicately scented.
Moisturise after a bath: Moisturise your kid's skin generously because the skin loses moisture and nutrients while bathing. Baby Dove' Rich Moisture Baby Bar retains moisture in my baby's skin. But my child has very dry skin.So, I chose a moisturising regime after the bath with Baby Dove'sRich Moisture Baby Lotion.  It keeps his skin moisturized up to 24 hours. What's more, it makes his skin soft and smooth from the first use itself leaving it delicately scented
Regular diaper changes: Change the diapers regularly. Diaper rash is a common problem in newborns, but is easy to prevent. It's important to keep the diaper area clean and dry. After you clean, wipe the moisture with a soft towel, expose your baby's bottom to air, let it dry, and apply Baby Dove's Rich Moisture Diaper Rash Cream to prevent the rash. It worked wonders for my baby; the rash never appeared ever again.
Baby Dove's Rich MoistureDiaper Rash cream contains skin protectants and neutralizes the pH faster, immediately forming a protective layer that shields your baby's delicate skin, thereby preventing redness and irritation.
It is specially formulated to spread and wipe off easily; it helps you out at home and with on-the-go changes. Hypoallergenic and suitable for daily use, the cream has been developed with your baby's beautiful skin in mind. It protects the skin from redness and irritation. Baby Dove Rich Moisture Diaper Rash Cream will leave your baby's bottom soft and rash-free.
Baby friendly clothing: Your baby's comfort is the number one priority. So, make them wear comfortable clothes. Choose soft and light clothes in which they can sleep blissfully. Don't put on tight clothes or fancy ones just because he looks cute in them. Dress him according to the season; organic cotton is the best for summers.
It seems as if your cutie pie is growing up faster than you think; it seems as if he was born just the other day, and now he is already crawling, rolling, and soon will be walking. Watching your baby grow can be one of the best feelings, but nourishing him while he grows with the right products is totally gratifying.
So, choose the right baby skin care products for your honey bunch, because you want the best for them and nothing less.