10 Healthy Vegetarian Recipes For Teens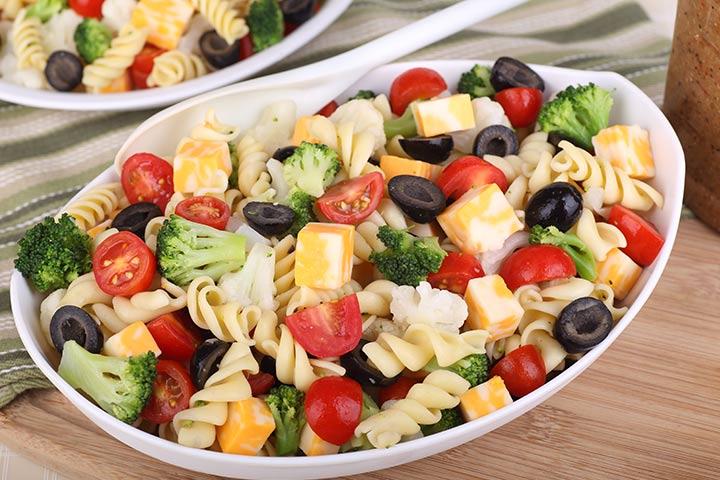 Does your teen crave for vegetarian cuisines? Do you like cooking scrumptious teenage vegetarian recipes? If you said yes, then you should read our post. Here we talk about popular and easy vegetarian recipes. You might find a new recipe hidden here.
1. Skillet Beans With Tortillas And Potatoes:
You Will Need:
4 potatoes
Two garlic cloves, minced
One onion chopped
One and half tbsp of virgin olive oil
One green bell pepper diced
One 4-ounce green chili
One 16-ounce black beans
One 16-ounce tomatoes diced
Six corn tortillas
Juice of 1 fresh lime
One tsp ground cumin
How To:
Boil all four potatoes. Allow them to cool down. Peel the boiled potatoes and cut them into ½ inch dice.
Heat olive oil in a large skillet. Add chopped onion to it. Then add bell pepper and garlic and sauté everything till the onion turns golden.
Add black beans, chilies, cumin and tomatoes.
Bring the mixture to a simmer. Add lemon juice and stir it gently for about ten minutes.
Add potatoes and tortillas and cook them well.
Garnish the cuisine with cheese or cream. Serve at once.
2. Peanut Butter Noodles:
You Will Need:
8 ounces pasta of desired shape (spiral, small shells, or spaghetti)
½ cup of warm water
One tbsp maple syrup
½ cup of peanut butter
One tbsp of sodium soy sauce
One tsp freshly grated ginger
Ample of water
How To:
Boil some water in a big saucepan and cook the pasta for a few minutes. Then drain the excess water.
Mix grated ginger, maple syrup, peanut butter, sodium soy sauce, and some warm water in a mixing bowl and whisk it together till the mixture turns smooth.
Pour the sauce over the pasta and toss to mix it well. Serve when warm.
3. Desert Dip:
You Will Need:
15 ounces white corn
½ red onion diced
Two tomatoes, chopped
15 ounces black beans
2 tbsp cilantro, chopped
½ red bell pepper diced
1 tbsp salt
1 tbsp fresh lemon juice
One can of black olives, sliced
One jalapeno, chopped
One avocado diced
One tsp garlic, powdered
How To:
Mix all ingredients. Mix white corn, black beans, chopped tomatoes, onion, black olives, cilantro, jalapeno, red bell pepper, lemon juice, avocado, garlic, and salt in a big bowl.
Refrigerate the mixture for about one hour and serve immediately.
4. Bean And Corn Salsa:
You Will Need:
Two vegetarian wheat pitas
One onion chopped
Four tsp cilantro, chopped
1 cup of corn kernels, defrosted
One can of black beans
1 ½ cups of tomatoes, chopped
Juice of a half fresh lemon
4 ounces of chilies diced
How To:
Combine onion, cilantro, corn kernels, tomatoes, beans, chilies, and fresh lemon juice in a bowl. Mix all ingredients in the bowl well.
Toast wheat pitas.
Serve ½ cup portion of the mixture with a ¼ of a wheat pita.
5. Cinnamon Apple Packets:
You Will Need:
Four apples, sliced
1 tbsp of brown sugar
One tsp cinnamon
How To:
Pre-heat the oven to 400°.
Mix the slices of apples, sugar, and cinnamon in a bowl.
Cut out four 12 x 12" squares of a heavy-duty foil.
Divide the apple mixture equally among four foil squares.
Fold the edges of foil and twist the foil tightly.
Place it on the rack and cook for about 20 minutes until the slices of apple turn tender.
Serve warm.
Garnish it with ice-cream.
6. Quick Pickle: Cucumber Pickle:
You Will Need:
2 cucumbers
1 cup of apple cider vinegar
1 ½ cup of water
1 cup of white vinegar
One tsp of mustard seeds
One tsp of dried dill weed
How To:
Slice two cucumbers into a quarter-inch thick circles.
Mix apple and white vinegar, mustard seeds, and dill weed on a saucepan. Boil it for one to two minutes and then allow the mixture to cool down for ten minutes.
Place slices of cucumber in mason jars. Fill jars full with the slices. Pour the mixture over the cucumber slices till they cover the slices entirely. Cover the jars with lids.
Refrigerate the pickle for at least two hours.
7. Mexican Rice Salad:
You Will Need:
One garlic clove
One tsp salt
Juice of 2 fresh lemon
½ cup of cilantro
Two tsp olive oil
½ tsp black pepper
One red onion, chopped
One can of black beans
One ear of corn cut off the cob
One red bell pepper, chopped
2 cups of brown rice
How To:
Cook two cups of brown rice and keep it aside.
Combine garlic, olive oil, cilantro, salt, pepper, and lemon juice in a blender for about one minute. Set the dressing aside for a while.
Using a big bowl gently toss red onion, brown rice, red bell pepper, and corn. Pour this mixture in the dressing and stir it gently. Serve immediately along with rice.
8. Veggie Pasta Salad:
You Will Need:
3 cups of wheat pasta
1 cup of chopped broccoli florets
3 tbsp of olive oil
One tsp of black pepper
Two tbs of honey
1 cup of shelled edamame
¼ cup of red wine vinegar
Two red bell pepper diced
1/3 cup of sliced black olives
How To:
Cook wheat pasta in a big vessel containing boiling water for about eight to ten minutes. Add broccoli and edamame to the vessel two minutes before the pasta is thoroughly done. Place everything in a colander to drain.
Whisk together honey, pepper, vinegar, and olive oil in a big bowl and prepare dressing.
Add olives, pasta, and vegetables to the dressing. Toss everything once or twice.
Refrigerate the salad and serve.
9. Trail Mix:
You Will Need:
½ cup of dried cranberries
¼ cup of almonds, sliced
½ cup of seedless raisins
¼ cup of roasted peanuts
1 cup of wheat flakes cereal
How To:
Mix almonds, raisins, peanuts, cranberries, and wheat flakes in a lidded can. Shake the can well.
Trail mix can stay fresh in a sealed can for about three weeks.
10. Kale And White Bean Soup:
You Will Need:
1 onion
2 carrots
1 tbsp olive oil
One garlic clove
1 ½ cups of chopped kale
2 cups of cannellini beans, cooked
¼ cup of cheese
Two cans or 32 ounces of vegetable stock
How To:
Peel onion and carrots and cut them into small pieces.
Mince the garlic cloves.
Heat olive oil in a big pot. Cook onion and carrots for about five to six minutes until they are soft. Add minced garlic.
Pour the vegetable stock and boil it. Cook for about 15 minutes. Bring everything to a simmer.
Add kale and beans and cook for five more minutes.
Pour it into a soup bowl.
Sprinkle cheese on soup and serve.
These vegetarian recipes for teens will certainly delight. You will enjoy preparing and eating them. Tell us which one is your favorite from this list of vegetarian recipes for teenagers. Leave a comment below.