Why My Baby And I Love The Baby Dove Range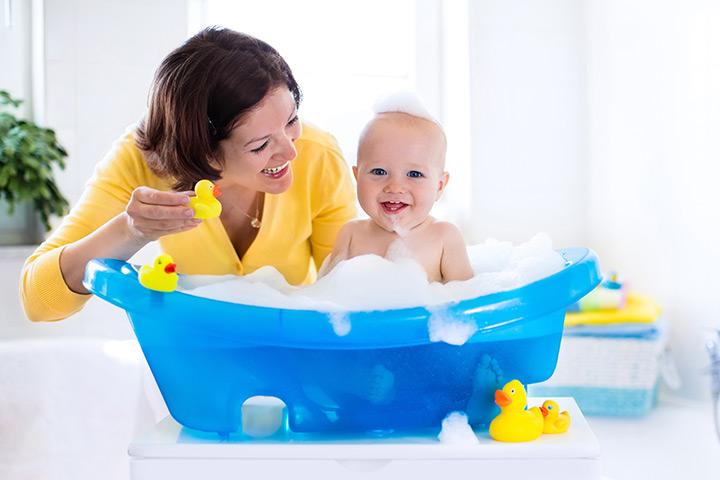 My daughter and I have a routine. The moment I hold her and walk towards the bathroom in the morning, she is overjoyed because she knows what happens next. I massage her and put her in the bathtub. She splashes to her heart's content, and thus we bond while bathing.
Then we move to the bedroom. As I lay her on the bed to wipe and dress her, she knows that it is followed by moisturising, putting on her diaperand dressing her. Guess she loves it too, as she is all smiles. Probably, she must also be appreciating my dress sense for her!
Doesn't my baby's bath routine sound picture perfect? But it was not like this always. Earlier, she would refuse to take a bath as she had rashes on the diaper regionand the moisturising cream wasn't suiting her. She couldn't sleep at nightas the irritation on her bottom, and we couldn't put her to sleep without a diaper.
Not just that, her skin and hair would get dry, making her scratch everywhere. It was nightmarish for me, as I tried almost every trick (read product), but still things didn't work out.
So, how did it all take a turnaround? It all changed when Dove launched its Baby Dove range. I was glad my favorite brand, which I have used for myself, came up with the baby version as well.
This is how I make the most of Baby Dove:
Pre-bath ritual: Igive my little one a body massage. She loves it, especially when I am massaging her back. After leaving her to relax for 10-15 minutes, I take her to have a bath.
Bath: I use Baby Dove's Sensitive Moisture Baby Bar as my daughter's skin is sensitive. It is hypoallergenic, ophthalmologist, dermatologist and pediatrician tested and is milder and more moisturising than traditional baby soaps. The brand also has the Baby Dove Rich Moisture Baby Bar. Unlike the normal soaps, Baby Dove bar leaves my daughter's skin smooth and soft. Even after wiping, her skin doesn't get dry. It just removes the oil (I used for massage) and the dirt from her body, but not the moisture. And I am not surprised because the bar contains one-fourth of moisturising cream.
Both the baby bars replenish essential moisture and nutrients lost during the bath and keeps your baby's skin soft, supple and delicately scented.
Moisturising: Immediately after the bath, I wipe her and apply Baby Dove's Rich Moisture Baby Lotion. And this I do as soon as I pat dry her body in order to lock in the moisture her skin lost while bathing. This is kind of a double moisturising – from the bath soap and the lotion.
The lotion is pH neutral and has a mild fragrance that keeps my baby and her skin happy. What I love the most about this product is that it treats dry skin and keeps it hydrated for 24 hours, soothes dry skin from the first use and is clinically proven to minimise allergy risks making it hypoallergenic.
Diaper care: The diaper region is the most important part of a baby, and probably the most vulnerable to infections. As it remains closed all day and tends to get wet, we need to make sure it doesn't become a breeding ground for bacteria. I apply Baby Dove's Rich Moisture Diaper Rash Cream on any minor rashes or blemishes on my daughter's bottom. It provides instant comfort from the first use, and immediate protection from the diaper rash, soothingmy baby's skin to leave it soft and smooth. It is developed for baby's delicate skin and ideal for daily use. This gives her a soothing feeling, while I can relax that those slight rashes don't grow to become painful.
Regular wiping:  My baby's cleaning ritual is not limitedto her bath. She pees frequently and poos more than twice a day. It means I need to change her diapers several times. Every time I clean her bottom, the skin becomes rough and dry. To avoid this situation, I use Baby Dove's Rich Moisture Baby Wipes, which are as gentle as water, moist and soft. They retain the moisture in her skin but leave her feeling fresh.
The wipes are handy in every season. In summer, I clean her underarms, neck and other areas whenever my daughter sweats. In winters, I can wipe her body without worrying about making her skin dry.
Thus, goes my baby skin care routine every day.
Let me tell you here that all the Baby Dove products are hypoallergenic, which means they don't lead to allergies. They are all tested and approved by pediatricians and dermatologists. In fact, the baby bar is tested by ophthalmologists as well!
All the products come in Rich Moisture range, whereas the Baby Bar has both Rich Moisture and Sensitive Moisture range, which means that they are customized to the baby's requirements.
In short, Baby Dove has come like a blessing to me and my baby as well. I no longer worry about the side-effects of baby products and my daughter does not have to suffer from burning eyes, dry skin, and irritating diaper rash.