Top 5 Quick And Easy Relaxation Techniques For Teens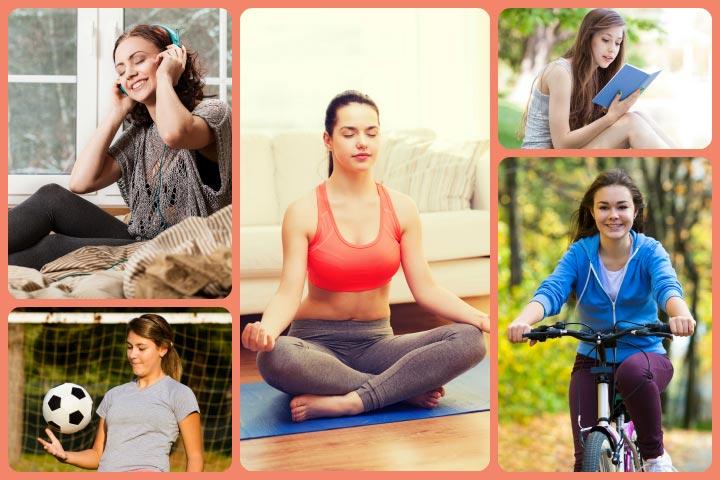 Is your teen unusually surly? Is her performance at school gradually degrading? Is she having trouble dealing with the daily stresses of life? If yes, then what she needs is to relax a bit!
Being a teenager is not easy. Dealing with physical changes and raging hormones is no "child's" play. Add to it the stress of school, and you have a disaster in the making. It is no wonder that many teens turn to substance abuse to get relief from their inner turmoil (1).
In such a scenario, it is important to find safe means with which your teen can de-stress. So, here are some easy ways to relax amidst the chaos of teenage life: Check out 5 effective relaxation techniques for teens:
1. Be Sporty:
Sports can help your teen not just relax but also to burn off all that extra energy. So, let her join a sports club. It can be any sports – soccer, tennis, even boxing! The bottom line is to find a healthy way to relax and unwind. (2)
2. Try Meditation:

Fortunately, meditation is increasingly becoming 'cool', so it shouldn't be difficult to convince your teen to spend some time with her inner self. Meditation remains one of the best relaxation techniques for teenagers to relax and improve one's quality of life. (3)
Meditation has a number of different versions. Your teen can pick one that works for her. Here are some easy meditation techniques your teen can take a look at:
Progressive Muscle Relaxation: This technique requires teens to focus on one muscle at a time, tensing and relaxing each one of them. With practice, this technique can go a long way in helping your teen stay calm even during stressful situations.
Guided Imagery: This technique is all about imagination. A teen will need to imagine a relaxing scene and let the feeling of peace wash over her.
Controlled Breathing: Not many teens know the importance of breathing 'right'. With controlled breathing, your teen can master the flow of oxygen into her body and stay relaxed and calm. Your teenager will need to take a deep breathe through the nose, and breathe out through the mouth to breathe right. But remember – the exhalation should be twice as long as the inhalation.
3. Go Natural:

Most teens spend their days cooped up in their homes, watching TV, or playing games. But it may be time to go back to nature. Tell your teen to put away her phone and go hiking. Cycling is equally beneficial. She can go alone, or with a group of peers. Connecting with nature is a great way to refresh one's mind and relax. (4)
4. Let Music Heal:

Music is a great healer. Yes, genres like techno, metal or rap can be therapeutic but sometimes it makes sense to try something different. Encourage your teen to listen to all kinds of music. Listening to music is a great way to relax and your teen will surely benefit from it. (5)
5. Develop A Love For Reading:

There can be nothing better than a good book to help one relax. Teens too are aware of this fact. That is why most teens report that reading is one of the best ways for them to unwind and de-stress (6). The best part is that reading doesn't just help a teen relax, but also helps to expand her horizon and improve her cognitive skills.
Apart from these techniques of relaxation for teens, they can also benefit by following a healthy lifestyle. Here are some tips that can nudge your teen towards being healthier:
Be physically active. Spend some time every day exercising.
Eat healthy and well-balanced meals. Avoid junk food as much as possible.
Stay away from excess caffeine consumption. Yes, that can of soda is doing you no favors!
Learn to believe in yourself. Don't indulge in negative thoughts.
Recite a mantra or affirmation. It can be anything – just as long as it helps you cope with life better.
These may seem like small steps, but can go a long way in helping your teen live a more relaxed life. There is no reason your teen cannot beat her ravaging hormones! What she requires is a little guidance from you!
Hope you liked our post on relaxation techniques for teens. Being a mother of a teen is no mean feat! So, how do you as a mother relax? Have any other relaxation activities for teenagers? Tell us in the comments section below!