Food & Snack Ideas For Your 3 Year Old Child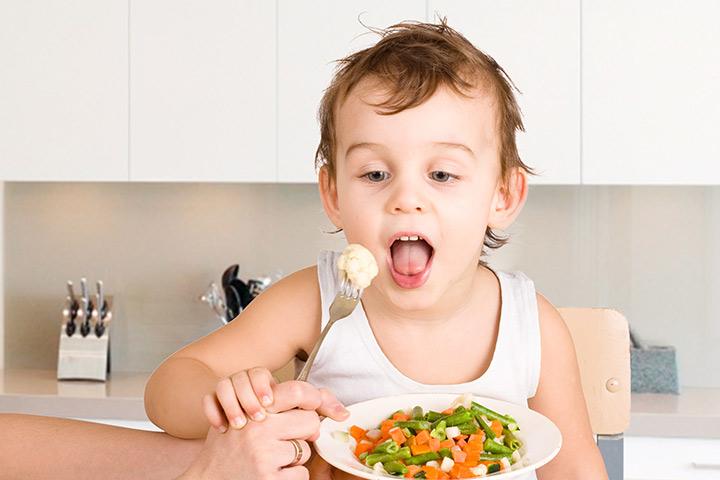 Does your 3-year-old get enough nutrients in his food? Do you wonder what the healthiest foods for him are? If these are questions that you dwell upon often, you should consider reading this post.Food for 3 year old should include a healthy variety of all kinds of foods.
3-year-old kids are quite active, and they need a lot of energy for their daily activities. It is important you feed them right, and make sure that they get their daily dose of essential vitamins and minerals. How do you do all of that and create fun meals for your kid? Read on and learn how to make healthy and tasty food for 3-year-old.
Food Options:
The food for 3 year olds should have variety.Variety is the key when it comes to choosing foods for your little one. Make sure he has enough from these four major food groups.
Meat and meat alternatives
Milk and milk alternatives
Grains and seeds
Vegetables and fruits
Try to include more natural and raw foods in your toddler's diet, avoiding processed foods high in sodium and sugar. Include healthy fat options such as avocadoes, salmon, cheese, and nut butters (1).
Tips:
Kids tend to be fussy about what they eat, and if you find it tough to deal with your kid's challenging and erratic food choices, here are some tips to help you out.This how you can feed food for 3 year old.
Offer smaller portions of foods instead of a plate full of food in one go.
Choose nutritious foods such as meats and vegetables. Your kid will feel 'fuller' and will be less likely to crave for junk food.
Schedule a proper mealtime and stick to it- the routine will help your kid eat properly and avoid snacking too often.
Learn some healthy recipes online- try to include more colorful and visually appealing meals for your kid.
Swap unhealthy foods for healthier alternatives- for example, if your kid loves pizza, create a homemade version using a multigrain crust topped with lots of vegetables and drizzled with olive oil (2).
Drink Choices:
Water is the best drink for your kid. When he no longer breastfeeds, try offering him around two cups of pasteurized whole cow milk, taking care that he doesn't have more than three cups per day.
If your kid is lactose intolerant or doesn't consume cow milk, you could take the advice of a healthcare provider and review other options.
Restrict his consumption of sugary drinks, sodas, fruit beverages, sports drinks and other canned drinks- these drinks tend to contain high levels of sugar. Sugary drinks can negatively impact your kid's dental health. If he does prefer fruit juice, make sure he doesn't have more than ½ a cup along with meals.
Snack Ideas:
Kids love snacking, and the television commercials of burgers oozing with cheese have only added to their tendency. Thankfully, it is easy to create healthier versions of these snacks with a little time and effort.
Try these healthy snacks for 3 year olds.
Pieces of fresh fruit with yogurt.
Whole grain crackers with lightly spread nut or seed butter.
Whole grain pita bread with a tangy dip.
Homemade banana bread with some light nut butter.
Melted cheese with whole grain crackers.
Milk/yogurt and fruit smoothies.
Multigrain bread sandwiches with lots of veggies.
Wholegrain pasta with healthy vegetables and lean meat chunks.
Homemade macaroni and cheese with tuna and peas.
Mini omelets with lots of raw vegetables.
These recipes are easy to whip up and fast to cook. Try your hand at some of these recipes and offer your 3-year-old the best! Tell us which one is your kid's favorite. If you have any other healthy recipes that you cook for your 3-year-old, share them with fellow moms here.