7 Health Benefits Of Apple For Kids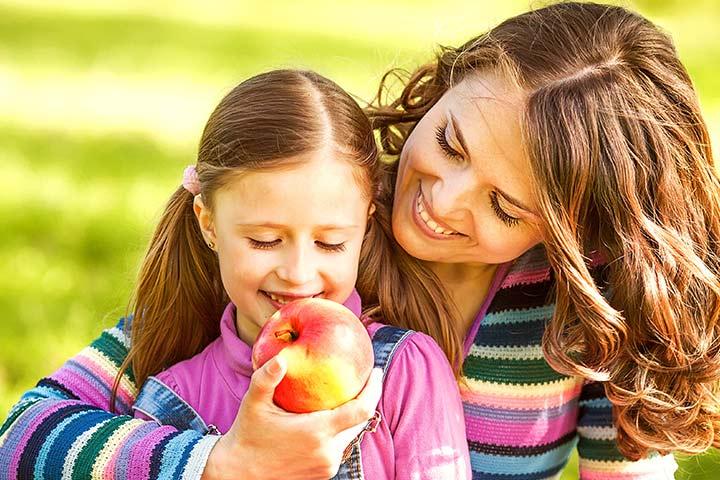 As the goes saying, 'An apple a day keeps the doctor away,' you will surely not want to deprive your kid from the benefits. This round delicious red or green colored fruit can be a healthy option!
Apples are often termed as herbs because of their healing properties. You can keep at bay different types of disease and need not carry him to the pediatrician at the slightest pretext.
Health Benefits Of Apple For Kids:

Apple is a low calorie food and rich in other essential nutrients. If you want your kid to retain a healthy body weight and not suffer from obesity, you must incorporate apples in his or her daily diet.
Here we shall take a closer look at the benefits of taking this power fruit daily:
Apples are rich in vitamins like A, B1, B2 and C. They also contain minerals like iodine, phosphorous, iron and calcium that aids in overall development of your kid. Minerals and vitamins are must for development of muscle tissues, skin, organs, blood and bones in children.
Apples are rich in antioxidants and phytonutrients that act against harmful chemicals and muscular degeneration in eyes. It also helps in reducing symptoms of asthma.
It is a good source of dietary fiber, which helps in reducing bad cholesterol and increase amount of good cholesterol.
Presence of too much of bad cholesterol hardens arteries, increases blood pressure and increases chances of strokes and heart disease as well. It is thus essential that you start giving apples to your kids from the very early age to keep at bay these problems.
Apples are also known to prevent diarrhea. It is better to consult with your doctor about this before you try different remedies on your own.
Apples keep your kid full and happy. Your kid will surely love to munch on the apples in between meals.
Vital Tips:

Apples are nutritious no doubt, but, to make sure your child gets the most of them, here are some tips you can ponder over:
To get maximum benefits of apples for kids, make sure to choose the ones which are fresh and of superior quality.
It is better to take the fruit with the red skin as most of the benefits are hidden in the skin.
You can come up with exciting recipes containing apples to add variety in your kid's diet. But to make the most of the nutritive benefits, it is better to take it raw.
Apple Smoothies For Tempting Your Little Ones:

If you want to procure apple fruit facts for kids, Take a look at some of the apple recipes that your toddler will definitely love:
1. Apple Crumble With Vanilla Ice-Cream:

Apple crumble topped with vanilla ice-cream is a popular dessert that your kid will certainly love. You can blend the apple crumble with ice-cream to create a rich smoothie and enjoy on a Sunday morning.
You Need:
Oatmeal crumbled cookie
Whipped cream
Vanilla ice cream
Cinnamon
Stewed apples
Way To Prepare:

Put together all the ingredients in a blender and run it for a minute.
Pour it in glasses and add cookie crumbles on the top.
2. Apple Pie Smoothie:

Here is what you need to prepare yummy Apple Pie Smoothie:
You Need:
1/2 cup ice
Plain yogurt
Frozen banana
Nutmeg
Cloves
Maple syrup
1 apple
Way To Prepare:

Put the frozen banana and apple in a blender for 15 seconds.
Add the other ingredients and run the blender till it turns smooth.
Hope you loved reading useful information about apple fruit for kids. Make meal-time a fun for your preschooler by trying these interesting options. There are plenty of ways you can incorporate vital nutrients in your kid's daily diet.
Share with us the different recipes you tried with apple for your little one by commenting below.