6 Amazing Benefits Of Playing Sports For Teens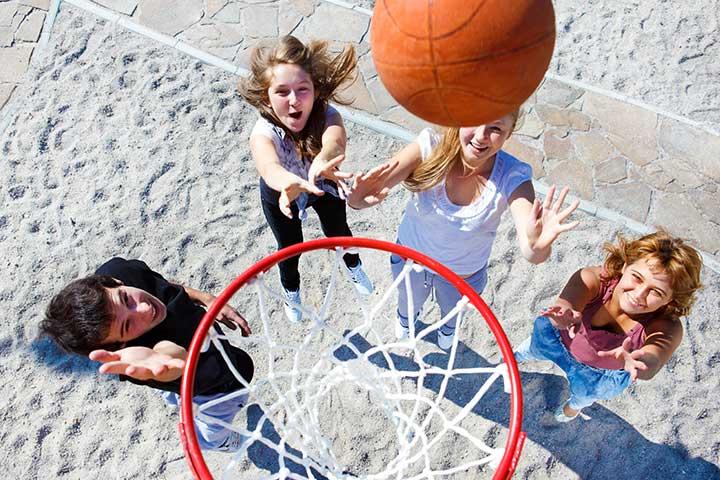 Are you worried about your teen's lack of interest in sports? Do you feel your teen is not as active as you would like him to be? Well, worry not. This is an issue most parents face today.
Initiating your teen into sports is a major challenge these days. With distractions like gaming consoles and other online activities, your teen may be giving real outdoor action a miss. If you feel this is true for your teen too, read on to find out how you can help him step outdoors and enjoy playing a sport!
What Are The Benefits Of Playing A Sport For Teens?
Playing sports helps in staying fit. But this is not the only benefit your teen will have if he engages in sports. Here is a quick look at how playing sports can benefit your teen (1):
1. Social Development:
Playing sports will first and foremost help your teen grow socially. As your teen spends more time with his peers, he will learn to come out of his shell and interact better. Your teen may be shy or self-conscious but as he meets other sports enthusiasts he will gain self-confidence (2).
2. Leadership Qualities:
Sports are an excellent exercise to build team spirit and leadership skills. He will learn how to coordinate and cooperate with his team members. He will also learn to keep the interest of the entire team on top priority instead of thinking about his individual performance only (3).
3. Long Lasting Friendships:
Many adults will vouch for not only striking goals but also friendship on the playground! Your teen will form some of his closest bonds during these growing up years, right on the playground. As your teen shares his fears and his secrets with these youngsters, he is sure to form some very strong bonds that may last a lifetime (4).
4. Coach As A Role Model:
Most trainers and coaches act as role models for teens. Your teen may not listen to you, but chances are, he will not say no to his coach. Your teen's coach will mentor him and teach him about the importance of discipline in life (5).
5. Stamina:
As your teen trains to play sports, he will slowly and steadily build his stamina. Sports will help your teen stay healthy by being physically active. Your teen will soon start enjoying these workout sessions. Real sports are also a great way to increase your teen's mental health and strength (6).
6. Time Management:
When your teen gets involved in sports, he will also start managing his time better. Your teen will try to strike a balance between studies and sports, and this will mean he will start following a routine and utilizing his time productively. In addition to this, he will also develop a competitive spirit.
Sports Your Teen Can Get Involved In:
Your teen will highly benefit from playing one or more of the following sports:
Basketball
Cricket
Football
Athletics
Tennis
Badminton
Volleyball
A Few Health Tips To Remember:
Your teen will need more nutrition when he plays a sport. Here are a few things you should keep in mind:
Your teen should drink more fluids while playing a sport in the sun to avoid dehydration or heat strokes.
Find out the right sports drink that is safe for your teen to drink.
Ensure your teen wears the right sports gear and appropriate clothing.
Ensure your teen eats a well-balanced diet in order to keep up with the high energy demands of the sports activity.
Before your teen goes for the sports, give him something to eat that will be light yet nutritive and filling.
Sports can play a crucial role in your teen's overall development and growth. Encourage your teen to take up a sport of his choice. Be attentive and see how he copes with his new activity. Be there to cheer and support him!
Did you introduce your teen to any sports? How did it affect his overall health and growth? Please share your experience with us.