5 Best Potty Seats For Your Little One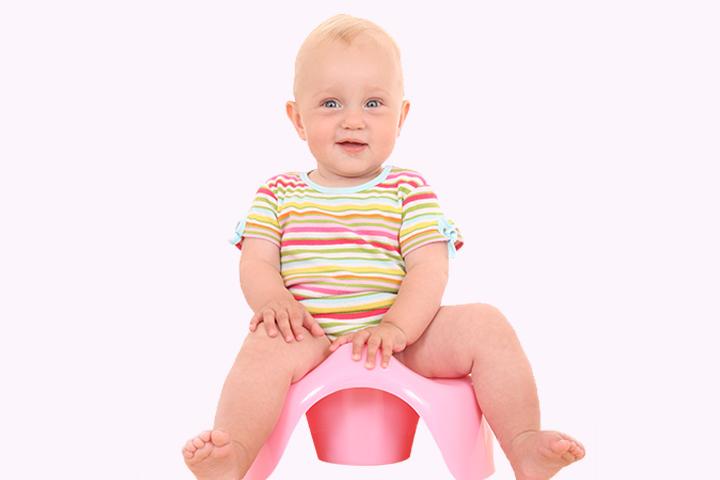 Are you thinking of buying a potty seat for your little one? If yes, it is time for you to know that potty-training is a tough task for most new parents. Without a systematic plan of action, do not begin the process blindfolded.
A Word Of Caution:
Think practical. Instead of buying a funky baby toilet seat , go for something that fits your needs. Hygiene should be of utmost importance. Ensure a hassle-free way to empty the contents of the potty after use. This seat is going to be visible at your house for more than a couple of years.
Different Types Of Baby Toilet Seat:
Let's briefly draw a comparison between potty chairs and potty seats before finally deciding which one to choose for your baby:
1. Potty Chairs:
Potty chairs are separate little potties which comfortably sit on the floor of your bathroom. While some have a single, solid plastic base, the others don't. The latter will have removable cups, trays and even can be foldable for easy storage.
Pro: Your toddler can easily jump on top of it anytime.
Con: It is tough to empty and clean it. You will have to train the little one for the bigger potty again.
2. Potty Seats:
A regular or padded toilet seat that snugly sits on the usual toilet seat is a potty seat. These doughnut shaped seats don't require emptying and can be flushed for cleaning.The best potty seat will have rubber bottoms that make it less slippery. Some of them even have little hooks that attach to the wall of the commode. Most potty seats can be removed and stored next to the potty after every use. While some others can be attached permanently, can be removed for adult visitors and lowered for toddlers.
Another bonus feature you can look out for in an ideal potty seat is the handle. Some potty sets will have little handles on their sides which will help the toddler to hold firmly on to them and ensure balance. More importantly, this facility helps give their mostly restless hands, a place to rest.
Pro: They are less messy and easily give them hands-on training to use the adult's toilet.
Con: It is difficult to find an appropriate potty seat that correctly fits your toilet.
3. Accessories – Stools And Steps:
While using the potty seat, your toddler might need a stool or a step to climb on to reach it. From little plastic boxes to elaborate staircases with rails, are readily available in the market to meet this purpose. Stools that can be moved out of the way for adults will be the best. If the stool can give a resting place to the toddler while using the potty seat, it would be better.
Pro: Stool helps your toddler to climb up easily onto the potty seat without much assistance.
Con: The baby might also use the stool for climbing to potentially hazardous areas like your lower kitchen cabinet.
Features Of Good Potty Seats:
The major pointer to take note of while buying baby toilet seats is to find out whether it is easy to clean. An affordable pricing along with smooth edges and small contours are other benefits.
1. Stability:
It is good to look for versatility. But make sure, none of its parts are easily removable. At any point of time, negligence on our part may result in the baby taking out one of it/s parts, to use it as a potentially risky toy.
Therefore, check out toddler proof potty seats.
2. Entertainment Features:
Several add-ons make potties more appealing to the babies. Be it in the form of songs, lights or sound effects, entertainment features can be aplenty in the potty. But remember that potty seats for babies which look like potties, are the ultimate choice.
3. Folding Potty Seat:
A child size toilet seat that you can easily use while traveling is a folding potty seat. This seat can be used to cover a public adult-size toilet and is easily foldable for portability. But the few flaws that accompany this seat are its heavy nature which makes it tough to carry along; plus, it's relatively cheap and hence is likely to have sharp edges and cracks around it.
5 Best Potty Seats:
Here are few best available baby potty seat in the market. Take a look at them and choose which one suits your needs.
1. Thomas The Tank Engine Comfi Trainer Set:
This padded seat featuring the cartoon character Thomas The Tank will be a fun way to introduce the grown up toilet to your baby. It's easy to clean features and softly padded seat for comfort and warmth is inviting. The trainer seat fits on all standard toilet seats and has handles to make your little one feel secure and confident.
Price: $ 24.94
2. Prince Lion Heart Wee POD- Poppy Pink:
This soft cushioned baby toilet training seat is the ultimate comfort giving tool for toilet training. With a free 12 months guarantee period, the seat has a rigid base for strength and stability. Also adjustable to fit most toilet seats with a 'teist', it has handles. It is easy to carry and clean. One distinguishing feature of the seat is that it is treated with an Epa approved additive to inhibit the growth of microorganisms.
Price: $ 29.34
3. Thomas Toilet Training Set:
With a handy hook on the back for easy storage when not in use, this toilet seat is an ideal way to help your toddler in toilet training. This potty seat for baby is compatible with most standard-sized toilets, it is easy to carry and easy to clean. The bright blue set will look great on your bathroom floor with matching co-ordinates.
Price: $ 8.79
4. The First Years Disney Pixar Cars Soft Potty Seat:
A multi-use potty seat that is much-loved by most mothers, the First year's Disney Pixar Cars set can be used both as an independent potty unit and a separate toilet seat. The base is highly sturdy and doubles up as a stool for the child to step on and reach to the top most conveniently. With a lift out pot, cleaning will be an easy task. The detachable potty seat unit is soft cushioned and can be used as a trainer seat for the adult toilet. With an optional deflector shield attached to the potty seat, the seat becomes a must-buy for young boys.
Price: $24.88
5. Munchkin Arm and Hammer 3-in-1 Potty Chair:
The space-saving potty, works in three different ways, to make value for your money. For the younger ones, the seat can be used as a stand-alone potty chair. Now, when your kid is grown up enough to use the adult's toilet, simply remove the seat and place it on the commode, then you close the lid of the seat. You get a completely skid-free stool. Few of the other attractions of Munchkin Arm and Hammer are that it has a slot to store the baby wipes and to keep it odor-resistant a capsule of scented baking soda is added.
The only flaw with this set is that if you prefer to refill the air freshener and wipes with another brand, this should not be your choice. The only problem about this seat is that you cannot use air fresheners of another brand , because the receptacles are specifically made to hold Arm and Hammer products only.
Price: 25- $40