4 Simple Tips To Teach Self-Awareness In Teens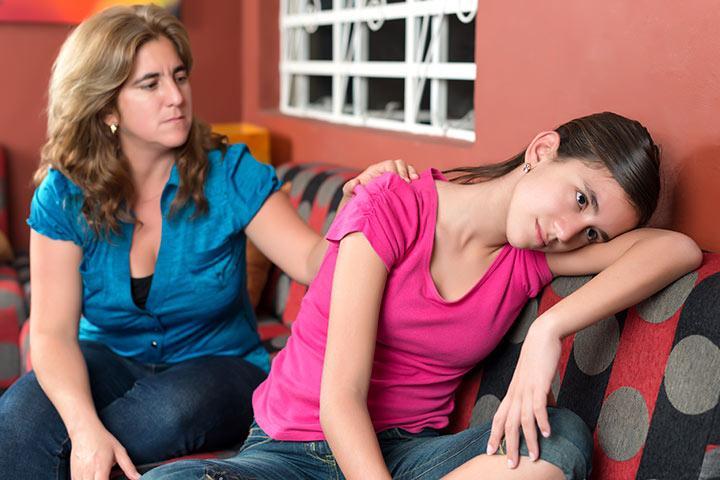 Is your teen a little shy around others? Do you want to help her overcome her lack of confidence and instill a sense of self-awareness? Well, if you can relate to the above situations reading this post on self awareness for teens is a good idea.
Parenting a teen is an ultimate test of tact and patience. If you have an adolescent at home, it is time for you to switch gears from being a strict disciplinarian to turning into her friend, philosopher, and guide. If you are keen to promote self-awareness in your teen, without rubbing her the wrong way, go ahead and check out this post!
Four Simple Tips To Teach Self Awareness For Teens:
Try the methods mentioned below that will help you in teaching self awareness to teenagers:
1. Practice What You Preach Your Teen:
Your teen will emulate your behavior automatically. She will try and behave exactly the way you do. So learn to be her role model before you expect her to follow a code of conduct.
Handle all situations with a positive outlook. When you stay calm even in the face of adversity, it will teach your teen to respond maturely, control her emotions and not give knee-jerk reactions under similar circumstances.
Show your teen that you are confident while dealing with even the most difficult of situations and that you love facing new challenges. She will learn to face the obstacles better when she is aware that only her self-confidence can help her overcome them.
Own your successes and failures in front of your teen. It will help her acknowledge her limitations and realize that she is not perfect at everything. Highlight the fact that she is good at many other things and that she should constantly strive to work on her weakness. It will help your teen realize the importance of self-awareness.
2. Teach Your Teen To Focus On Values:
Teach your teen that it is very important for her to focus on her values.
Ask her to make a list of all the values that she thinks are important and she should follow.
Some of the values that may appeal to your teen include being a loyal friend, owning her actions, paying attention to her academic performance, etc.
Ask your teen to inculcate these values in her everyday behavior. As she learns to lead a life based on these principles, she will also learn to be more self-aware and confident of her actions.
3. Help Your Teen Tackle Her Stress:
Stress can pull down your teen and make her feel low and worthless.
Help your teen focus on how she can effectively fight her stress and avoid it in future situations. As your teen learns to recognize the cause and symptoms of her stress, she will gradually become more self-aware.
Sometimes, your teen may need your help to handle her stress. Help her by telling her while suffering from stress how she was behaving, who she was with or where she was. You can also help her to identify the cause of her stress by discussing the events that led to that particular situation.
Once your teen starts recognizing these signs, her self-awareness will help her prevent and fight stress with ease.
4. Do Not Label Your Teen:
As a parent, you may often end up using specific tags that you feel best describe your teen.
To make your teen self-aware avoid giving her an epithet. Doing so will limit her potential. If your teen starts believing in such perceptions that you or others have of her, she may stop working on other personality traits that she has.
For example, you may call her shy even in front of others. If your teen is already shy, she will start conforming to the same and may not even try breaking the ice.
Love your teen for what she is and help her find her path.
Your teen will develop into a happy and healthy adult when you regularly communicate with her and help her to become self-aware. Help her build on her strengths and improve her weaknesses without being harsh and judgmental so that she can optimize her potential.
How did you inculcate self-awareness in your teen? If you know any self awareness activities for teenagers, please share with us.