12 Easy Steps To Treat Teenage Acne At Home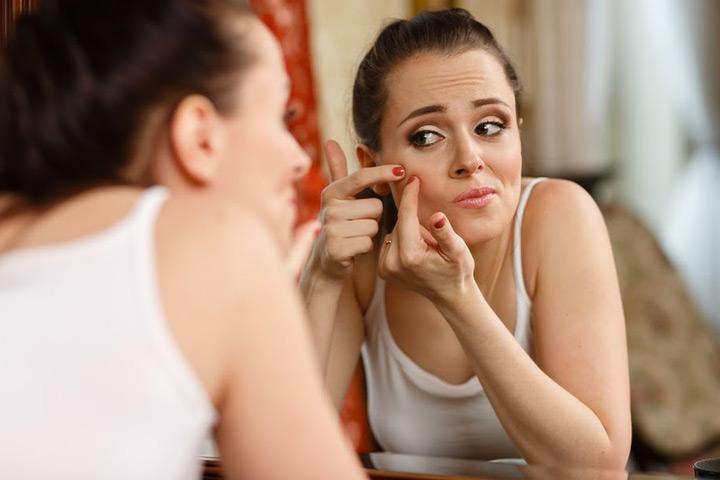 With the onset of puberty, many teenagers face severe acne problem.
According to research, every teenager goes through this breakout problem during those difficult years. The acne breakout starts from age thirteen. The most common area is around the nose, cheek, chin and forehead.
What Is Acne?

What causes teenage acne? Acne problem occurs due to over production of oil in our skin.
The oil from the gland gets trapped in the pores of the skin resulting in problems like pimples, blackheads, whiteheads and henceforth.
Acne can be mild to severe.
It is not necessary that only teenagers get affected by this, anyone can get it.
The problem decreases slowly during the early twenties.
As a parent to a teenager, it is important that you learn about acne problems, before worrying, as this can help you be prepared and keep a check on it.
Effects Of Acne On Teenage Psyche:

Acne can affect your teenager's psyche in the following ways:
Loss of self-esteem and self-confidence.
Studies show that teens with severe acne, get into depression.
Your teen will be conscious about body image and can feel embarrassed because of acne.
It might affect academic performance.
Your teen might not participate in sports and may want to be alone.
As a parent, it is important for you to understand your teen's emotion and support them through this time period.
12 Easy Steps To Tame Teen Acne:

While the market is flooded with products that promise to remove acne, following a few steps can help keep it under control. Ask your teen:
To Wash her face early in the morning after she wakes up and late at night before going to bed.
Use mild soap to remove the oil from your T-zone. Must towel-dry her skin.
Use face wash, the skin will tend to become dry, no matter how mild the product is.
Always moisturize her skin right after using face wash. Gel based moisturizer works perfectly with oily skin, while cream based is perfect for dry skin.
To look for acne products which have salicylic acid and benzoyl peroxide.
Not to pick pimples. This causes scarring as well as spreading of bacteria.
To steam her face, an ideal way for treating teenage acneor pimples. Steam softens the skin, helps the pores to open up and gets rid of oils and toxins.
Use ice, it can help her treat acne overnight. Wrap ice cube in a cloth and apply on the affected area for 30 seconds.
To eat healthy and drink 8 glasses of water to get clear skin. Water flushes away toxins and makes skin bright and clear. Avoid oily food which causes more breakouts.
Maintain a diet, which should include leafy vegetables, carrots and fruits like apple and cucumber. This is ideal to reduce acne on the skin.
To include minerals in her diet. Minerals control over production of hormones and maintain its balance.
To maintain good hygiene.
It is natural for an acne breakout to cause insecurity in your teen. It can affect their performance and cause major depression.
Ensure you do not overlook this problem. Let your teenager understand that using various over the counter products will not help in controlling this problem as acne is an internal factor.
Best Home-Made Face Pack To Get Rid Of Acne:

Want to know how to get rid of teenage acne? Here is the answer. Multani mitti or Fuller Earth is the best natural solution to get rid of acne. This simple preparation of face pack will surely give you a brighter and clearer complexion.
Preparation:
Ingredients:
Multani Mitti: 2 tsp
Lemon: 4 drops
Neem paste
Method:

Mix the above ingredients with water into smooth paste.
Apply it on the affected area and leave it for 1/2 hour.
Wash it off with regular water.
This face pack is the best for oily skin.

How It Helps?

It stops unwanted breakouts
Makes skin less greasy
Gives blemish free skin
Try these simple steps to control breakouts. If all else fails, make sure to visit a good dermatologist.
Do let us know your home made methods to curb your teen acne in the comment section below.