10 Quick & Delicious Quinoa Recipes For Toddlers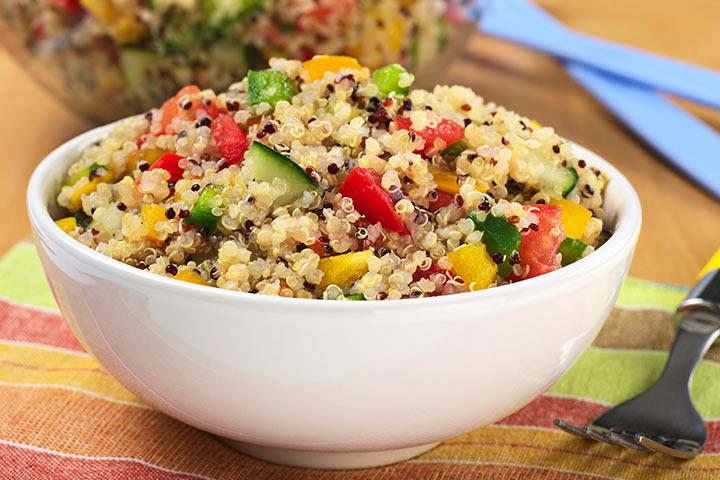 Do you want to serve protein rich food to your toddler? Do you wish to offer fluffy yet crunchy cuisines to your little one? If you said yes to either question, you should think about introducing quinoa for toddlers nutrition. What is Quinoa? Is quinoa good for toddlers? Which quinoa recipes are good for your toddlers? Read our post and get the answers here.
What Is Quinoa?
Quinoa is the least allergenic grain crop, which provides edible seeds. Quinoa is rich in proteins and wheat-free. It contains all nine crucial amino acids necessary for your toddler's healthy growth and development. Cooked quinoa seeds are fluffy yet crunchy, and you can cook them to make many nutty delights for your toddler. (1)
Here is our collection of the top 10 quinoa recipes for toddlers:
1. Quinoa Curry:
You Will Need:
1 onion
One garlic clove
½ cup of quinoa, cooked
Olive oil
One tsp of fresh ginger, crushed
½ tsp of curry powder
¾ cannellini beans
¾ cup of tomatoes, chopped
How To:
Heat olive oil in a frying pan. Add onion in the oil. Sauté the onion for about two minutes.
Add ginger and garlic and sauté for two more minutes
Add cannellini beans and curry powder and stir well.
Add cooked quinoa and tomatoes. Then lower the heat and bring it to a simmer for ten minutes.
Mash well and serve.
2. Savoury And Sweet Vegetable Quinoa:
You Will Need:
1 cup of cooked quinoa
2 tbsp of zucchini diced
One sweet potato
One green onion
2 tbsp olive oil
1 tbsp of dried and chopped apricots
1 tbsp raisins
How To:
Soak apricots and raisin in a bowl of warm water. Allow them to turn soft.
Heat olive oil in a pan.
Add sweet potato, onion, and zucchini and sauté till onion turns golden
Add quinoa, apricots, and raisin and stir well.
Serve when warm.
3. Quinoa And Chicken Patties:
You Will Need:
½ sweet potato
One garlic clove
1 cup of ground chicken
1 apple
One egg yolk
1 onion
¼ cup of quinoa, cooked
A pinch of dried thyme
How To:
Peel off sweet potato, onion, garlic, and apple and all of them together in one bowl.
Add an egg yolk, a quarter cup of quinoa, the ground chicken, and thyme to the mixture in a bowl and mix it well.
Develop balls out of the mixture and create ½ inch thick patties.
Cook patties on the grill for about ten minutes each of the side.
4. Apple, Beet, And Quinoa Blend:
You Will Need:
1 peeled and diced apple
1 peeled and diced beetroot
½ cup of cooked quinoa
How To:
Steam the apple pieces and beet cubes till they turn tender.
Puree beet and apple cubes in a food processor.
Add cooked quinoa to the puree and serve.
5. Quinoa Meatballs:
You Will Need:
½ cup of quinoa, cooked
½ cup of carrot, grated
½ lb ground beef
2 tbsp applesauce
One egg yolk, beaten
A pinch of dried thyme
How To:
Preheat your oven to 200 deg C.
Mix quinoa, carrot, beef, applesauce, egg yolk, and thyme together. Develop one inch meatballs with your hands.
Cook meatballs for about 15 minutes.
Serve warm.
6. Quinoa Cookies:
You Will Need:
½ cup of quinoa flour
1 tsp baking powder
½ cup of wheat flour
1/3 cup of oil
1 egg
1 tsp vanilla extract
½ cup of brown sugar
½ cup of oats
½ cup of chocolate chips
How To:
Mix quinoa flour, wheat flour, baking powder, oats, chocolate chips, and brown sugar in a one bowl.
Mix egg, oil, and vanilla extract in another bowl.
Now, mix mixtures in both the bowls.
Prepare small balls with your hands. Place these balls on cookie sheet.
Bake balls for about eight minutes.
Serve them
7. Mexico-Quinoa Salad:
You Will Need:
1 cup of quinoa
1 cup of corn kernels, cooked
2 cups of vegetable broth
1 cup of black beans, cooked
½ tsp of sea salt
Three green onions, sliced
Some cilantro leaves, chopped
Juice of one fresh lemon
Two tsp of olive oil
½ tsp ground cumin
Pepper and salt to taste
How To:
Place a cup of quinoa, two cups of vegetable broth, and some water in a saucepan.
Add sea salt to the mixture and bring it to a full boil. Lower the heat to simmer. Cover the saucepan and cook for about 15 minutes. As the clear grains ascend, tap them with a fork and let them cool down.
Then place the quinoa in a bowl. Add beans, pepper, cilantro, and olive oil. Then add corn, onion slices, lemon juice, cumin, and salt. Mix all the ingredients well and serve.
8. Quinoa And Banana Breakfast:
You Will Need:
½ ripe banana
½ cup of quinoa, cooked
½ cup of milk or whole milk
1 tbsp apricots, dried
How To:
Cut banana in small pieces using a knife.
Combine small pieces of banana and milk in a saucepan.
Pour a cup of quinoa and a tbsp of dried apricots to the pan and stir it gently for about five to ten minutes, till it turns thick.
9. Quinoa, Walnut, And Spinach Stir-Fry:
You Will Need:
1 cup of quinoa
One tsp garlic, minced
5 ounces of baby spinach
One tsp olive oil
½ tsp salt
1 cup of cherry tomatoes or grapes
2 cups of water
½ cup of fresh Parmesan cheese, grated
½ cup of walnut, cut and toasted
Basil leaves
How To:
Place quinoa in a bowl. Add water and smash it well. Place the mixture in a mesh strainer and drain the mixture well.
Heat oil in a large frying pan. Add quinoa. Cook the quinoa till it turns golden. Stir it for ten minutes.
Add garlic. Cook and stir the mixture for about 1 minute.
Add salt and two cups of water and bring it to a boil. Lower the gas. Let it cook for about fifteen minutes
Add tomatoes and spinach. Cook over medium heat for about one minute, till tomatoes turn warm and spinach wilts.
Add Parmesan cheese and toasted walnuts. Stir everything well.
Garnish with basil leaves and serve.
10. Delicious Pecan-Quinoa Bowl:
You Will Need:
1 cup of quinoa
1 tsp butter
1 cup of low-fat milk
1/3 cup of raisin or cranberries
1 tbsp of honey or sugar
1/3 cup of pecans, chopped and toasted
1sp salt
¼ tsp ground cinnamon
1/8 tsp nutmeg, grated
For Toppings:
Pecans, chopped
Honey
Warm milk
How To:
Place milk in a saucepan and bring it to a boil.
Add quinoa, butter, and cranberries. Cover the saucepan, lower the heat, and simmer for about 15 minutes till quinoa turns tender.
Add honey, cinnamon, pecans, nutmeg, and salt.
Divide the mixture into four bowls.
Garnish each bowl with chopped pecans, honey, and milk.
Serve immediately. (2)
These delicious quinoa recipes for toddlers will certainly satisfy your toddler's taste buds without compromising on his nutrition. Did you prepare quinoa recipes for your toddler? Share your recipes with other moms. Leave a comment below.