10 Cute And Easy Teenage Girl Hairstyles For School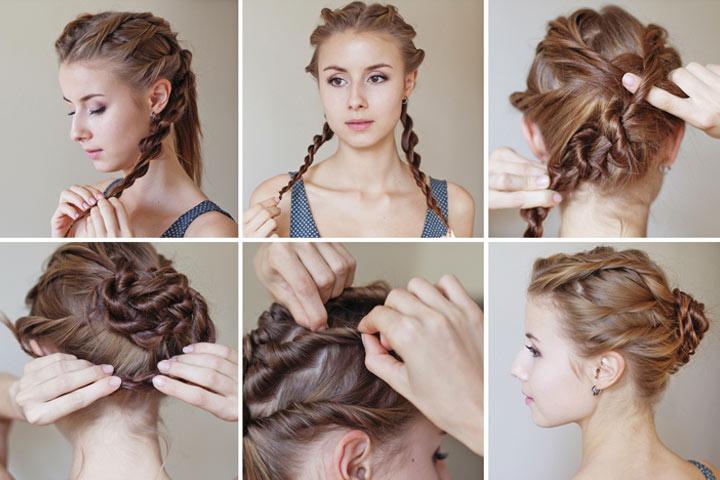 Thinking of ways to make your school days more fashionable? Hairstyles can do the magic! With most schools having strict guidelines on dressing diligently in the dull uniforms, hairstyles can be the only way to add some charm. So today, we have brought in line some cool & cute teenage girl hairstyles for school to add a sparkle to your school days. Read on and experiment with these hairstyles for teenage girls for school.
1. Ruffled Pixie:
If you are looking for a bold but feminine hairstyle, ruffled pixie is for you. Best to look on heart-shaped faces, don't think again to go for it if you also have medium thickness with straight to wavy hair. Because short hairstyles are not that versatile, you can try to spice your looks by trying different accessories.
2. Fresh Fishtail:
If you have long knots, fishtail will look good on you. Irrespective of the type and texture, fishtail suits well with long hair. If you want to have some wavy look on the top, curl your hair first before tying your fishtail. Clear elastics are good to look at the end of the braid.
3. Sugar And Spice:
Simply blow dry your hair and use flat iron to make smooth strands. Add some shine and a little hairspray to keep the hair in place. The sugar and spice hairstyle is now on you. If you lack that natural texture of hair, you don't need to lose heart. This style will perfectly suit you. You can also opt for sugar and spice if you have got medium to thick density hair.
4. Spiked Headband:
If you have a bed head to hide, this hairstyle will be the perfect choice. With spikes contributing to a sparkling new look, go ahead with it for bringing a casual yet stunning look to school.
5. Hair Bow:
If it's just one of those rushing days to school and you hardly have some time in hand for the hair, hair bow is the style to try. Simply grab one of those lovely looking bows from your drawer and pin it on! It takes just seconds to bring that adorable look on you.
6. Braided Twist:
This is one of the easy hairstyles for school for teenage girls. The braid steals it again. Separate the front portions of your hair and carefully make some lovely braids on each of them. Now tuck the two behind your head into a single braid. Simply finish it off with a bun.
7. Microbraid Hairband:
This braid style is for the ones who love to have some braids along with an open hair. If you have got hair long enough to make braids, just go ahead with the micro braid. Braid a 1X1 square section of the front portion of the hair to one side and pin it off. If you simply don't have time for the braid and still want to wear the look, you can buy some pre-made braided hairbands which match your hair color. Though looks great on colored hair, it doesn't matter whether you have straight or curly hair for this type of hairstyle.
8. The No Big Deal Style:
If "no big deal" is your attitude to most things in life, then by every right this hairstyle belongs to you. An utterly casual yet highly inviting hairstyle for shoulder-length hair types, it is good to look at the blonde. Or if you are thinking of coloring your hair, ensure the roots are darker than the tips.
9. Curly Bob:
Wear the chic look with a bob by making a twist to it with some curls. Adding curls always give a distinguished feminine look to hairstyles. And if your hair has its volume standing more prominent than the length, curly bob will look cute on you. Round face and wavy hair will be two great qualities that will add to the look of this hairstyle. Wear a hair band or a colorful scarf along with the style and all eyes will be on you.
10. Side Ponytail Plus:
It's more than the classic anytime ponytail. Curl your hair with an iron and pull your entire hair to one side of the head into a ponytail. Tie it off with a soft ribbon. Now wrap it on with some small strands of hair and render a natural look.
Now, you have a collection of some trendy teenage girl hairstyles for school to try every day. Are there more in your knowing? Come on, share with us.