10 Best Pre/Play Schools In Chennai For Your Kid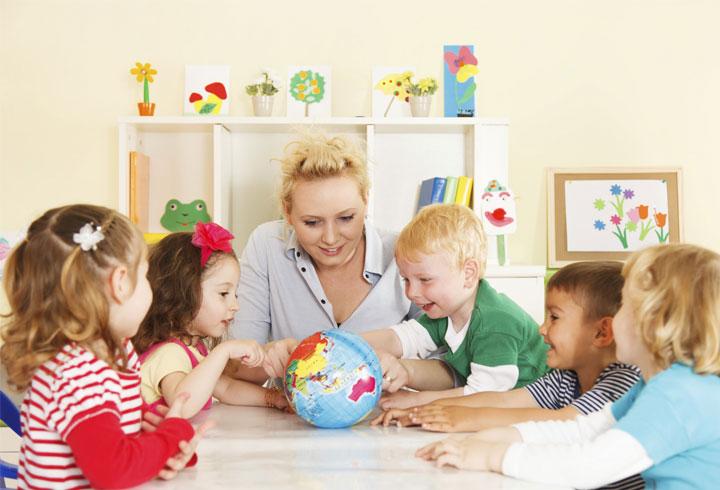 The first five years of your child's life are full of rapid and critical development. Proper pre-schooling is an important foundation slab at this age. Apart from imparting physical, social, intellectual and emotional development in your child, it will help boost self-esteem and social skills and will also foster confidence and independence.
Top 10 Pre/Play Schools In Chennai:
Attending a high-quality early childhood program prepares kids for primary schooling and beyond. However, finding the best option for your child takes time and research. If you are in search of a suitable preschool for your little one, you can get started with our list of top 10 pre-schools based in Chennai. These have been listed according to the rankings given by educationworld.in, that reviews and rates schools across the country.
1. Indus Early Learning Centre (Besant Avenue):
Website: www.indusearlyyears.com
Phone: 91-8939752224 / 09940638444
Address: No 27 AB/13 A, Karpagam Gardens, Opp Avvai Home Girls School, Besant Avenue, Chennai 600020
The Preschool Offers:
Leadership programs to empower children to discover values through communication, community service, conceptual thinking, and creativity.
Collaborative and individualized learning.
Wi-Fi campus with smart boards to prepare kids for digital age.
Well-trained teachers and staff.
Health, care, and safety of the child.
Well-planned outdoor playground.
2. KiwiLearners (Neelankarai):
Website: www.kiwilearners.com
Email: info@kiwilearners.com
Phone: 044 – 24492615 / 24492616, +91 9444309203 / 9444609203
Address: Door No.3, Ayshika House, Stillwater Court, 2nd Cross St, Off Sunrise Avenue, Neelankarai, Chennai, Tamil Nadu, 600115
The Preschool Offers:
High quality education and care for children.
Holistic play based education programs.
Well-trained and skilled staff as per New Zealand standards.
Safe indoor and outdoor environment.
Specialized childhood curriculum from New Zealand.
Assessment practices to share and celebrate the child's learning with parents and family.
Digital methods of teaching.
3. Vruksha Montessori (Alwarpet):
Website: www.vrukshamontessori.net
Email: vrukshamontessori@gmail.com
Phone: 044-4211 2337, 044-4306 3399
Address: 35/1, 3rd Street, Abhiramapuram, Alwarpet, Chennai – 600018
Promoted in 2002
The Preschool Offers:
Teaching methodology based on Montessori and Playway.
Teacher-student ratio of 2:15.
Programs including toddler, pre-primary, primary, class 5 and 6.
Activities such as (Oyillatam) folk dance, music, science, creative arts and parenting workshops.
Admission for children from the age of two.
4. Vael's Billabong High-Kangaroo Kids (Neelankarai):
Website: www.vaelsbillabonghigh.com
Phone: 044 – 2449 2292 / 2449 2692
Address: 480, 3rd South Main Rd, Sri Kapaleeswarar Nagar, Neelankarai, Chennai – 600 041
Established in 2004
A franchisee of the Mumbai-based Kangaroo Kids Education Ltd. (KKEL)
Admissions are open through the year, subjected to availability of vacant seats.
The Preschool Offers:
Teaching methodology based on Playway.
A curriculum prescribed by KKEL, focusing on learning by doing, analyzing, reinforcing and synthesizing knowledge.
Teacher-student ratio of 2:15.
Higher school affiliated to ICSE and has accreditation for IGCSE.
Facilities such as air-conditioned classrooms, state-of art science lab, well equipped art lab, audio-visual room, library and resource center.
An e-library with 24-hour internet connectivity.
Campus with indoor and open air auditoriums, doll house, gym and a swimming pool with qualified instructors.
After School Program – A fine arts institution KREDA offers programs such as western dance, yoga, painting, art and craft, water play, aerobics, puppetry and conducts story telling sessions.
5. Alphabet Play School (Alwarpet):
Website: www.alphabetplayschool.com
Email: admin@alphabetplayschool.com
Phone: +91 44 42112025
Address: 178 B, St Mary's Road, Alwarpet Chennai 600018
The Preschool Offers:
Hands-on activities designed to introduce children to learning objectives in a meaningful way.
Skilled and knowledgeable staff.
Support for your child to do the best.
Montessori and play-way methods.
A comprehensive program helps children develop problem solving and creative thinking skills.
Spacious and air-conditioned classrooms with smart classes.
Outdoor play area with slides, splash pool and swings.
Extracurricular activities including dance, music and puppet show.
6. SEED Academy (Kottivakkam, Adyar & Anna Nagar):
Website: www.seedschool.co.in
Email: info@seedschool.co.in
Phone: +91 9840298344
Founded in May 2004 by Jaya Sastri, a postgraduate in early childhood education with over 20 years of experience.
The Preschool Offers:
Teaching methodology based on Montessori system.
Teacher-student ratio of 1:15.
Admission from one-and-a-half year of age.
Facilities including spacious, air-conditioned classrooms, large outdoor play area, pet zoo, splash pool and ball pool.
School transportation.
Nutritious and healthy meals prepared in-house.
Active parental involvement. SEED community is meant to unite SEED parents.
After-school and daycare programs.
7. Amelio Early Learning Centre (Sholinganallur):
Website: www.ameliochildcare.com
Email: info@ameliochildcare.com
Phone: +91 92822 00444,+91 44 2441 0701
Address: New No. 53A, Old No. 29, M G Ramachandran Road, Kalakshetra Colony, Besant Nagar, Chennai – 600090
Established in the year 2008
The Preschool Offers:
Spacious and child-friendly rooms.
Constant monitoring through CCTV surveillance.
Dedicated cleaning staff who ensure spotless and germ-free spaces.
Enriching activities that allow holistic development of your child.
An internationally acclaimed assessment program to maximize your child's potential.
Teacher student ratio of 1:6.
Staff with an active background training in ECE and certification in emergency medical aid.
Teaching staff with training round the year.
Strong exposure to children across multiple areas to help them become all rounders.
8. Kangaroo Kids (Velachery):
Website: www.kkel.com
Phone: 044-43523656 / 64572457, 9841633334 / 9841311117
Address: No.12, Kalki Nagar, 1st Cross Street, AGS Colony, Velachery, Chennai-600042
Ranked among the top 20 preschools in Chennai.
The Preschool Offers:
Customized learning keeping in mind that each child is unique and learns differently.
High-quality holistic education.
Well-stocked library, an indoor playroom, water play area, music room, traffic park and an audiovisual room.
Superior quality teaching and learning facilities.
Plenty of indoor and outdoor playing equipment in a properly maintained play area.
Theme based learning.
9. Learning Tree (Adyar):
Website: www.learningtreechennai.com
Email: mail@learningtreechennai.com
Phone: 04424461470
Address: 7 Venkateswara Nagar 2 nd Street, Adyar Chennai – 600020
Established in 2002
The Preschool Offers:
Montessori method of teaching to help children gain intellectual, emotional and social values.
Qualities of poise, self-confidence, exemplary social behavior and a spirit of sharing with other kids.
Well ventilated and spacious classrooms where children have the freedom to move around.
Outdoor play equipment including seesaws, slides, jungle gyms, rope ladders, tyre swings, sand pit, etc.
Teacher student ratio of 1:15.
Transportation facility.
10. Alacris Preschool (Adyar):
Website: alacrispreschool.com
Email: enquiry@alacrispreschool.com
Phone: 07601000000
Address: Old # 13 – New # 16, Second Cross Street, Indira Nagar, Adyar, Chennai – 600 020
The Preschool Offers:
An exciting learning environment and a safe, nurturing space for children to grow and learn.
Air conditioned classrooms and activity rooms for music and arts.
CCTV cameras, sick bay and age, appropriate non-toxic toys.
Transportation.
A progressive curriculum that fosters the natural development of children.
Active parent engagement initiatives.
Qualified and proficient teachers and staff.
Hope this article will make your search for play schools in Chennai easy. Note that the facilities, fee structure, quality etc. may vary from center to center. We would advise you to pay a personal visit to the schools before choosing the best play school. We wish you good luck and a bright future for your precious one. Happy learning!
Don't forget to share your experiences with us.