10 Best Play/Preschools In Bangalore For Your Kid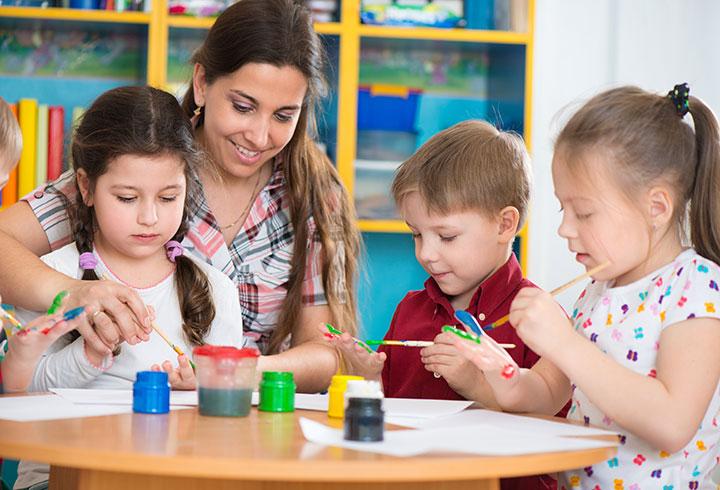 Pre-schooling plays a crucial role in laying a solid foundation for your child's formal learning process. Many pre-schools offer engaging, interesting and stress-free experience. This helps in shaping your child's mental, social, creative, physical, sensory and cognitive skills.
Regardless of which part of the country you live in, zeroing down on a suitable preschool for your child seems to be a challenging task. Unlike earlier, many parents are positive about enrolling a child into pre-schooling. Utilizing this change in the parental outlook on education, numerous small and big preschools are opening every year across the country.
Top 10 Preschools in Bangalore:
If you are a parent based in Bangalore, then the following list is something you simply cannot afford to miss.
We have compiled a set of top 10 pre-schools based in Bangalore. These have been listed according to the rankings given by educationworld.in, that reviews and rates schools across the country.
1. Indus Early Learning Centre (Whitefield):
Established in 2011, Indus serves as a feeder school to the main schools of the Indus Trust.
Website: www.indusearlyyears.com
Phone: 080-28457078, 9739200007
Address: #132/D, ECC Road, Whitefield, Bangalore – 560066
Working hours: 9.30 am to 3 pm
Admissions are open throughout the year
The Preschool Offers:
Inquisitive and explorative teaching methodology divided into five areas such as language, numeracy, science, personal and physical and arts.
Teacher-student ratio of 1:10.
Admissions to kids with special needs and a Special Educational Needs (SEN) program.
Well-equipped classrooms, Wi-Fi campus with interactive smart-boards, laptops for children, library, performing arts studio and fine arts studio.
Qualified teachers and trained staff.
Strong parental involvement.
Higher classes at Indus international school.
In-house availability of meals and snacks.
Indoor and outdoor play area and swimming pool.
Qualified coach to provide swimming lessons.
Field trips as part of the curriculum.
School transportation.
2. Head Start Montessori (Koramangala):
Founded in 1984 as a garage start-up, the school later moved to its own campus spread across more than five acres.
Website: www.headstart.edu.in
Email: preprimary@headstart.edu.in
Phone: 080-25537025
Address: 32(P), 16th Main, 4th Block, Koramangala, Bangalore – 560034
Admissions based on the availability of vacant seats.
The Preschool Offers:
Teaching methodology based on the philosophy of Dr. Maria Montessori.
Teacher-student ratio of 1:15.
Admissions to Early Years Program from 15 months to 2.5 years and Pre-Primary program from 2.5 years to six years.
Montessori trained qualified teachers.
Learning experience planned through a wide range of Montessori activities, art, music and play.
Open play area with sand pit and an indoor play area with astro-turf.
3. Neev (Indiranagar):
Established in June 2005, the school currently runs four centers across the city.
Website: www.neevschools.com
Email: school@neevschools.com
Phone: 080-41300836/37
Address: 3367/K, 13th Main, HAL 2nd Stage,Opp. BSNL office, Indiranagar,Bangalore – 560008
K1, K2 school hours : 8.30 am to 3.00 pm
The Preschool Offers:
Teaching methodology based on the theory of Multiple Intelligences (inter/intra personal, kinesthetic, linguistic, mathematical, musical and spatial development.)
Theme based integrated learning experience.
Teacher: Student ratio of 1:9.
Admission for 1.6 to six-year-old children.
Facilities such as well-equipped classrooms, playground and garden, fine and performing arts studio, computer room, well-stocked library, etc.
Full day program for K1 and K2.
4. WeCare (Sarjapur Road and Whitefield):
The school has tie-up with many corporates.
Website: www.wecarelearning.com
Email: info@wecarelearning.com
Phone: (080) 6570 – 4414, (080) 2572 – 5480
Admissions available throughout the year, subject to availability of vacant seats
Sarjapur Road:
Email: w2@wecarelearning.com
Phone: (080) 3202 – 0772 / (080) 4203 – 9797
Mobile: +91- 9591468686
Address: No. 14 & 19, Ground Floor, Prestige Pegasus,Sarjapur Road, Bangalore – 560037
Whitefield:
Email: w1@wecarelearning.com
Phone: (080) 3242 – 8895 / 6541 – 6555
Mobile: +91-9900075049
Address: Plot No. 1, NR Enclave,EPIP Zone, Whitefield, Bangalore – 560066
The Preschool Offers:
Integrated teaching methodology based on the theory of multiple intelligence.
Admissions in the age groups of six weeks (day care) to six years.
Full day and half day schooling.
Well-equipped daycare and afterschool facility.
Nutritious meals.
Facilities like language center, science center, library, fine motor center, art center and space for sand and water play and indoor play areas with ride-ons, bikes, cars, tunnels etc.
5. KLAY (Whitefield):
Established by educational services organization Founding Years, KLAY is a chain of high-end preparatory schools in India.
Website: www.klayschools.com
Email: info@klayschools.com
Phone: 08065703057/41522150/28495252/+91 7022617921
Address: Plot 18B, Brookfield Main Road (Off ITPL Road), Whitefield, Bangalore, Karnataka.
The Preschool Offers:
A high-quality preparatory schooling program.
Teaching and learning philosophy based on experiential learning and multiple intelligence.
Focus on different abilities of a child that include linguistic, logical-mathematical, bodily-kinesthetic, musical, interpersonal, intrapersonal, spatial and naturalistic.
Teaching staff that undergo rigorous selection and a training process.
Classrooms equipped with CCTV cameras and access to parents to view their children real-time.
Teacher student ratio of 1:3.
6. Fun And Learn (RT Nagar):
Established in the year 1998, it is one of the top 20 schools in Bangalore as per the survey done by Education World, New Delhi.
Website: www.funandlearn.in
Email: itsrenuka26@gmail.com
Phone: 9632502277
Address: No. 455 (new No. 15) M.M.Layout, Kavalbyrasandra, P.O. R.T. Nagar, Bengaluru – 560032.
The Preschool Offers:
A teaching methodology, which is a combination of Montessori and Kindergarten.
Trained teachers, who also have an opportunity to attend workshops.
Support staff, who treat kids with warmth.
An extensive play area of 2000sq.ft and a large sandpit which accommodates 20 children at once.
Bathrooms with hot water facility.
Freshly cooked food for lunch followed by milk and snacks in the evening.
Transport facility.
A day care from 9am to 6.30pm.
Innovative methods of teaching which involve singing, art & craft, role plays, outdoor games and fun activity sheets.
Teacher student ratio of 3:20.
7. The Magical Years (Kodigehalli):
Established in 2011, the school is located on the premises of premier sports academy, The Bhupathi Tennis Village.
Website: www.themagicalyears.in
Email: info@themagicalyears.in
Phone: 080-23646122
Mobile: +91-9916001144
Address: 183/4 Tindlu road, Kodigehalli, Vidyaranyapura post, Bengaluru-560097
Established in 2011
School timing: 8.30am – 1.30pm
Admission forms issued on a first come basis, no filtering of forms.
The Preschool Offers:
Teaching methodology based on Montessori.
Admissions in the age group 1.6 to six years.
Good parental involvement.
Nutritious snacks and drinking water.
Facilities like child-friendly furniture, a swimming pool, jungle gym, slides, swings, large tennis field and play area.
Transportation facility.
8. Eurokids (RMV 2nd Stage):
It is a popular brand in India's pre-school segment, with centers available across the country.
Website: www.eurokidsindia.com
Phone: 9482090028/9449116243
Address: No.63 – 64, 4th A Cross, Between 2nd & 3rd Main Hig, Rmv 2nd Stage,Dollars Colony, Bangalore-560094
Playgroup admissions open almost throughout the year. Admission to other classes closes by August 31 each year.
Admissions on first-come-first-serve basis.
The Preschool Offers:
Teaching methodology based on Playway and Montessori.
Monthly themes based on real-world sensory experience.
Admission to children from 1.8 to six years of age.
Facilities including bright classrooms, child-friendly furniture, common activities area, fun room, discovery room, AV room and play area.
School transportation.
9. Seed International (OMBR Layout):
The school was established in 2004 with an aim to prove that quality education makes a great difference at a young age.
Website: www.seedschool.co.in
Email: info@seedschool.co.in
Phone: 9886737473, +(91)-80-33051117
Address: 652, 4C Main, OMBR Layout, Near Kasturi Nagar Bangalore 560043
The Preschool Offers:
An intensive curriculum which helps young learners develop into confident students.
Teaching staff, who focuss on each child's personal development.
A curriculum that emphasizes on teacher-directed, independent, small group learning activities and experiences.
Hands-on learning through creative expression, math, art, language, manipulatives, outdoor learning, and dramatic play.
Socio-emotional learning.
Involvement of parents and families in all special events.
Field trips to zoo, farm, planetarium, science exhibitions and others.
Secure classrooms and surrounding areas to keep your children under constant check.
Strict sanitary, hand-washing and health policies.
Fitness and nutrition programs to develop a lifetime of healthy habits.
10. Oi Play School (HSR Layout):
It is one of the highly acclaimed International Baccalaureate schools in Asia.
Website: www.oiplayschool.com
Email: info@oiplayschool.com
Phone: 18002008171
Address: OI Playschool 151, 6th A Cross, Vijaya Bank Layout, Bannerugatta Road, Bangalore – 560076
The Preschool Offers:
A platform for global learning through pedagogy that is balanced with strong traditional values.
Emotional, social and intellectual grooming to develop a lifetime of healthy habits.
Involvement of parents in fostering creativity, encouraging independence and instilling confidence in children.
Aesthetically designed, bright classrooms and functionality.
Open space for outdoor activities.
Best teacher-student ratio.
A safe and secure environment that stimulates and challenges a child.
We hope the above information will be helpful in your hunt. Always remember that facilities, fee structure, quality etc. would vary from center to center. We would advise parents to pay a personal visit to the schools before making a final decision.
Good luck and happy learning for your little bundle!
Don't forget to share your experiences with us